01.12.2016 | Primary research | Ausgabe 1/2016 Open Access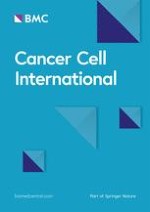 The BH3 mimetic drug ABT-737 induces apoptosis and acts synergistically with chemotherapeutic drugs in thyroid carcinoma cells
Zeitschrift:
Autoren:

Martina Broecker-Preuss, Nina Becher-Boveleth, Stefan Müller, Klaus Mann
Abstract
Background
Patients with dedifferentiated and anaplastic thyroid carcinomas that do not take up radioiodine are resistant to chemotherapeutic treatment and external irradiation and thus are difficult to treat. Direct induction of apoptosis is a promising approach in these apoptosis-resistant tumor cells. The BH3 mimetic ABT-737 belongs to a new class of drugs that target anti-apoptotic proteins of the BCL-2 family and facilitate cell death. The purpose of this study was to investigate the effect of ABT-737 alone or in combination with chemotherapeutic drugs on thyroid carcinoma cell lines.
Methods
A total of 16 cell lines derived from follicular, papillary, and anaplastic thyroid carcinomas were treated with ABT-737. Cell viability was measured with MTT assay. Cell death was determined by cell cycle phase distribution and subG1 peak analyses, determination of caspase 3/7 activity and caspase cleavage products, lactate dehydrogenase (LDH) liberation assays and LC3 analysis by western blot.
Results
The number of viable cells was decreased in all cell lines examined after ABT-737 treatment, with IC50 values ranging from 0.73 to 15.6 μM. Biochemical markers of apoptosis like caspase activities, caspase cleavage products and DNA fragmentation determined as SubG1 peak were elevated after ABT-737 treatment, but no LC3 cleavage was induced by ABT-737 indicating no autophagic processes. In combination with doxorubicin and gemcitabine, ABT-737 showed synergistic effects on cell viability.
Conclusions
With these experiments we demonstrated the efficacy of the BH3 mimetic drug ABT-737 against dedifferentiated thyroid carcinoma cells of various histological origins and showed synergistic effects with chemotherapeutic drugs. ABT-737-treated cells underwent an apoptotic cell death. ABT-737 and related BH3 mimetic drugs, alone or in combination, may thus be of value as a new therapeutic option for dedifferentiated thyroid carcinomas.