21.01.2017 | Original Paper | Ausgabe 4/2017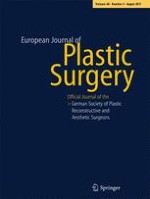 The bony anchoring reinforcement system (BARS) for flank hernia repair: a versatile technique
Zeitschrift:
Autoren:

Andrew I. Elkwood, Steven D. Kozusko, Tushar R. Patel, Michael I. Rose, Matthew R. Kaufman, Russell L. Ashinoff, Adam Saad, Steven J. Binenbaum, Frank Borao
Abstract
Background
Abdominal wall reconstruction, especially when fascial defects occur in the flank region, is a field of high interest given the morbidity of hernias. The flank hernia is a rare and challenging entity requiring adequate overlap and secure fixation for a successful repair.
Methods
This is a retrospective case series study including all patients undergoing flank hernia repair using the bony anchoring reinforcement system (BARS) technique from March 2013 through August 2015. An electronic chart review identified seven patients with flank hernias that underwent the BARS procedure.
Results
Six of the patients followed-up for a full year with one patient dropping out after returning to exercise and indicating high satisfaction with operative outcome. There was one recurrent hernia 29 months later. There were no surgical site or mesh infections.
Conclusions
The BARS technique is a versatile and efficacious open approach for repairing flank hernias. It allows for a large area of overlap and secure fixation to the bony structures in the pelvis.
Level of Evidence: Level V, therapeutic study