01.12.2015 | Study protocol | Ausgabe 1/2015 Open Access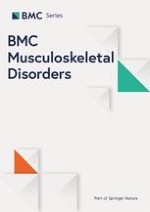 The British Society for Rheumatology Biologics Registers in Ankylosing Spondylitis (BSRBR-AS) study: Protocol for a prospective cohort study of the long-term safety and quality of life outcomes of biologic treatment
Zeitschrift:
Autoren:

Gary J. Macfarlane, Maxwell S. Barnish, Elizabeth A. Jones, Lesley Kay, Andrew Keat, Karen T. Meldrum, Ejaz Pathan, Roger D. Sturrock, Claudia Zabke, Paul McNamee, Gareth T. Jones
Wichtige Hinweise
Competing interests
BSRBR-AS is funded by the BSR, which in turn receives funding from the manufacturers of the biologic therapies included in this study (currently AbbVie, Pfizer and UCB). Pharmaceutical companies providing funds to BSR do not have a role in the oversight of the study, but they do receive advance notice of publications on which they are able to comment. They do not have access to the data collected but can request analyses of the data, for which additional funds are provided. GJM chairs a Pfizer competitive grant committee for which he receives an honorarium. GJM and GTJ have received separate funding from AbbVie and Pfizer to study spondyloarthritis in the Scotland Registry for Ankylosing Spondylitis (SIRAS) study. LK has received an unrestricted educational grant from UCB. AK has received research funding from Abbvie and Pfizer as well as speaker/chairman fees and payments for attending advisory boards from Abbvie, Pfizer and UCB. The remaining authors have no competing interests.
Authors' contributions
MSB, the BSRBR-AS study analyst, wrote the first draft of the manuscript which was then revised by GJM (Chief Investigator) and comments subsequently made by all authors. The protocol of the study was originally written by GJM, EAJ, LK, AK, KTM, RDS, PM and GTJ, while EP and CZ have been involved in making revisions to the original protocol. PM designed and oversees the health economic aspects of the study. All authors approved the submission. GJM is the guarantor.
Abstract
Background
Axial spondyloarthropathy typically has its onset in early adulthood and can impact significantly on quality of life. In the UK, biologic anti-tumour necrosis factor therapy is recommended for patients who are unresponsive to non-steroidal anti-inflammatory drugs. There remain several unresolved issues about the long-term safety and quality of life outcomes of biologic treatment in axial spondyloarthropathy. Long-term "real-world" surveillance data are required to complement data from randomised controlled trials.
Methods/Design
We are conducting a UK-wide prospective cohort study of patients with axial spondyloarthropathy who are naïve to biologic therapy at the time of recruitment. Those about to commence anti-tumour necrosis factor biologic therapy will enter a "biologic" sub-cohort with other patients assigned to a "non-biologic" sub-cohort. The primary objective is to determine whether the use of biologic therapy is associated with an increased risk of serious infection, while secondary objectives are to assess differences in malignancy, serious comorbidity, all-cause mortality but also assess impact on specific clinical domains (physical health, mental health and quality of life) including work outcomes between biologic and non-biologic patient cohorts. Patients will be followed-up for up to 5 years. Data are obtained at baseline and at standard clinical follow-up visits – at 3, 6 and 12 months and then annually for the biologic cohort and annually for the non-biologic cohort. This study will also collect biological samples for genetic analysis.
Discussion
Although biologic therapy is widely used for ankylosing spondylitis patients who are unresponsive to non-steroidal anti-inflammatory drugs, the majority of the available safety information comes from rheumatoid arthritis, where increased infection risk has consistently been shown. However, given the typical demographic differences between rheumatoid arthritis and axial spondyloarthropathy patients, it is important to develop an epidemiologically rigorous cohort of patients receiving biologic therapy to effectively evaluate outcomes with regard not only to safety but also to quantify benefits across clinical, psychosocial and work outcomes.
Clinical trial registration
This is an observational cohort study and clinical trial registration was not required or obtained