01.12.2017 | Research | Ausgabe 1/2017 Open Access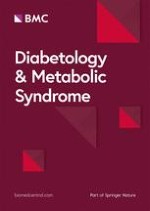 The burden of diabetes and hyperglycemia in Brazil-past and present: findings from the Global Burden of Disease Study 2015
Zeitschrift:
Autoren:

Bruce Bartholow Duncan, Maria Inês Schmidt, Ewerton Cousin, Maziar Moradi-Lakeh, Valéria Maria de Azeredo Passos, Elisabeth Barboza França, Fátima Marinho, Ali H. Mokdad
Wichtige Hinweise
Electronic supplementary material
The online version of this article (doi:
10.​1186/​s13098-017-0216-2
) contains supplementary material, which is available to authorized users.
Abstract
Background
Diabetes, hyperglycemia, and their complications are a growing problem in Brazil. However, no comprehensive picture of this disease burden has yet been presented to date.
Methods
We used Global Burden of Disease 2015 data to characterize diabetes prevalence, incidence and risk factors from 1990 to 2015 in Brazil. Additionally, we provide mortality, years of life lost prematurely (YLL), years of life lived with disability (YLD) and disability-adjusted life years (DALYs) lost due to diabetes, as well as similar data for chronic kidney disease (CKD) due to diabetes and, as an overall summary measure, for hyperglycemia, the latter expressed as high fasting plasma glucose (HFPG).
Results
From 1990 to 2015 diabetes prevalence rose from around 3.6 to 6.1%, and YLLs, YLDs, and DALYs attributable to diabetes increased steadily. The crude diabetes death rate increased 90% while that of CKD due to diabetes more than doubled. In 2015, HFPG became Brazil's 4th leading cause of disability, responsible for 65% of CKD, for 7.0% of all disability and for the staggering annual loss of 4,049,510 DALYs. Diabetes DALYs increased by 118.6% during the period, increasing 42% due to growth in Brazil´s population, 72.1% due to population ageing, and 4.6% due to the change in the underlying, age-standardized rate of DALY due to diabetes. Main risk factors for diabetes were high body mass index; a series of dietary factors, most notably low intake of whole grains and of nuts and seeds, and high intake of processed meats; low physical activity and tobacco use, in that order.
Conclusions
Our study demonstrates that diabetes, CKD due to diabetes, and hyperglycemia produce a large and increasing burden in Brazil. These findings call for renewed efforts to control the joint epidemics of obesity and diabetes, and to develop strategies to deal with the ever-increasing burden resulting from these diseases.