14.06.2017 | Experimental Study | Ausgabe 2/2018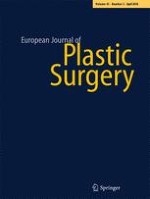 The cadaveric feasibility study of using filler augmentation at the lower nose for the reinforcement of the external nasal valve
Zeitschrift:
Autoren:

Tanvaa Tansatit, Prawit Apinuntrum, Thavorn Phetudom
Abstract
Background
Filler injections have been used in rhinoplasty to correct minor nose deformities and to augment the nasal dorsum. At the lower nose, the procedures are used to increase nasal tip projection and improve the bulbous nasal tip but they have never been used in the correction of the lateral crus weakness and collapsed external nasal valves.
Methods
The study was conducted with 14 human cadavers that underwent lower nose injection rhinoplasty using the columellar and alar injections as tripod augmentation. The nasal alae were tunneled and retrogradely injected by a needle. The compared parameters measured to evaluate the improvement before and after the treatment were basilar nasal width, interalar width, columella-nasal tip height, columellar-labial angle, and the length and width of the nostrils. Measurements were taken with a digital caliper. All measurements were matched and compared for statistical analysis.
Results
There were seven male and seven female Thai cadavers. Most of the values of the parameters were increased, but the basilar nasal width and interalar width were not changed. The columellar-labial angle, columella-nasal tip height, and nostril's length showed statistically significant differences (
P
< .05), leading to positive changes in the nostril cross-sectional area, the nasal tip projection and the external nasal valve.
Conclusions
Injection rhinoplasty of the lower nose as tripod augmentation of the external nasal valve increases the nasal tip projection and the nostril cross-sectional area thus improving the functional and esthetic appearance.Level of Evidence: Not ratable.