20.07.2016 | Original Paper | Ausgabe 2/2017 Open Access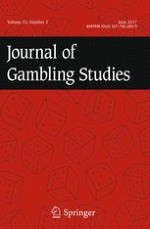 The Candy Crush Sweet Tooth: How 'Near-misses' in Candy Crush Increase Frustration, and the Urge to Continue Gameplay
Zeitschrift:
Autoren:

Chanel J. Larche, Natalia Musielak, Mike J. Dixon
Introduction
To play Candy Crush, players are allotted a fixed number of moves in which they can swap symbol positions with the goal of horizontally or vertically aligning three (or more) matching symbols. When matched symbols are aligned, points are awarded and the 'captured' matching symbols are removed from the game matrix (and replaced by other symbols). A single match constitutes one move. In each level of the game, the player must achieve a specific objective within a limited number of moves before the player can unlock the next level. The objectives can include bringing a certain number of 'ingredient' symbols to the bottom of the game matrix (in game play players are instructed to "Collect all 6 ingredients!"), or 'freeing' candy symbols encased in 'gelatine' or 'jelly' tiles (e.g. "Clear all the jellies!"). If the player meets the objective within the allotted number of moves they win, and move on to play the next level (colloquially known as "levelling up"). If they fail to meet the objective in the allotted number of moves they lose, and remain at the current level, which they must repeat if they wish to move on in the game.
Methods
Results
Out of the 60 participants recruited, only 56 had valid data for all measures. Three participants were excluded because they did not experience all three game outcomes and one had a technical issue with the recording software. Participants ranged in their frequency of play from those who played very seldom to those who played multiple times per day. Most participants reported playing between 20 and 30 min in a game session. Frequency of play and reported session lengths are shown in Tables
1
and
2
.
Table 1
Baseline playing frequencies on a weekly basis
| Weekly playing frequency | # Responses |
| --- | --- |
| Daily, multiple times a day | 12 |
| 7 or more times a week | 7 |
| 5–6 times a week | 5 |
| 3–4 times a week | 5 |
| 1–2 times a week | 21 |
| Rarely, almost never | 6 |
Table 2
Reported session length
| Session length | # Responses |
| --- | --- |
| 3–4 h | 0 |
| 1–2 h | 4 |
| 40–50 min | 10 |
| 20–30 min | 35 |
| 0–10 min | 7 |
Data Reduction and Analysis Strategy
All measures were subject to outlier rejection analyses. Data points more than 3 standard deviations away from the mean were considered outliers. Heart rate was measured in Beats per Minute (BPM). To circumvent the fact that games could be of different temporal lengths we analyzed BPM and SCLs only for the last 30 s of each game (ending with the posting of one of the outcome delivery messages in Fig.
3
), and the last 30 s of the baseline periods. Changes in SCL were measured by calculating the slope of SCLs over this 30-s epoch. For all measures, outcomes of the same type were averaged. For instance, if the player experienced four losses, two wins and two near misses, the data for each measure would be reduced to three numbers (e.g. there would be three arousal ratings comprised of the average for losses, the average for wins and the average near-misses). For data analyses involving baselines (HR and SCLs), there were four data points per participant- three data points related to game outcomes (average of wins, average of losses, average of near-misses) and one data point reflecting the average of the baselines. For HR, SCLs and PRPs, we conducted repeated measures analyses of variance (ANOVA) involving all outcomes followed by Fisher's Least Significant Difference (LSD) Comparisons. In instances where there were violations of sphericity, Greenhouse-Geisser corrections were applied.
For the subjective data we employ planned contrasts between near-misses and losses, wins and losses, and wins and near-misses for all of the subjective measures. Note main effects in an analyses of variance would be underpowered since for many measures no difference was predicted between two of the three means. For example, similarly high arousal should occur for wins and near-misses.
Physiological Measures
As shown in Fig.
5
, the baseline condition was associated with the lowest heart rate. During game play, the 30 s leading up to either a win or a near-miss appeared to trigger relatively high heart rates, with losses triggering lower heart rates. A repeated measures ANOVA with a Greenhouse-Geisser correction revealed a significant main effect of condition,
F
(2.427, 133.50) = 18.75,
p
< .001,
η
2
= .25. Fisher's LSD post hoc tests showed that baseline heart rate was slower than any of the game play outcomes (
p
< .001 for all values). Near-misses triggered significantly higher heart rates than regular losses (
p
= .05) but the average HR for wins did not statistically differ from near-misses (
p
= .30). Wins had higher heart rates than regular losses (
p
= .03).
×
The changes in skin conductance levels (SCLs) over the final 30 s leading up to a win, loss or near-miss (or the last 30 s of the baseline period) are also shown in Fig.
5
. This figure shows a general reduction in SCLs over time during the baseline period, an increase in SCLs over time for wins, and little change for losses and near-misses. A repeated measures ANOVA with a Greenhouse-Geisser correction indicated a significant main effect of SCL change by condition type,
F
(2.11,107.79) = 3.11,
p
= .04,
η
2
= .06. Fischer's LSD post hoc comparisons showed significantly larger slope increases for wins compared to near-misses (
p
= .02), but not losses (
p
= .13). Losses and near-misses were not statistically different (
p
= .83). The baseline epoch had significantly lower slopes than wins (
p
= .01) but not near-misses (
p
= .34) or losses (
p
= .21).
Post-reinforcement Pauses
Near-misses (
M
= 1.85,
SD
= .89), and losses (
M
= 1.92,
SD
= 1.03) had short PRPs compared to wins (
M
= 12.05,
SD
= 8.85). Repeated measures analyses with a Greenhouse Geisser correction indicated that there was a significant main effect of outcome type,
F
(1.01, 50.76) = 71.29,
p
< .001,
η
2
= .58. Post-hoc comparisons indicated that PRP lengths for near-misses did not statistically differ from PRPs for losses (
p
= .60). However, PRPs for wins were statistically longer than PRPs for losses (
p
< .001) and near-misses (
p
< .001).
Subjective Measures
Average arousal ratings are shown in Fig.
6
. The planned comparison between arousal ratings for near-misses and losses revealed that near-misses were more arousing outcomes than regular losses,
t
(56) = 2.16,
SE
= .077,
p
= .03. By contrast, the planned comparison of arousal ratings between wins and losses was not significant,
t
(56) = −1.37,
SE
= .124,
p
= .17, nor was the planned comparison between arousal ratings for wins and near-misses,
t
(56) = .05,
SE
= .05,
p
= .95.
×
For frustration (shown in Fig.
7
), near-misses had the highest frustration ratings, followed by losses, and wins. The planned comparison between frustration ratings for near-misses and losses indicated that near-misses were significantly more frustrating than losses,
t
(56) = 2.01,
SE
= .12,
p
= .04. Expectedly, frustration following wins was statistically lower than losses,
t
(56) = 10.50,
SE
= .19,
p
< .001, and statistically lower than near-misses,
t
(56) = −10.41,
SE
= .21,
p
< .001.
×
Average urge ratings are shown in Fig.
8
. The planned comparisons revealed that near-misses triggered significantly greater urge than losses,
t
(56) = 1.95,
SE
= .19,
p
= .05. The planned comparison between urge ratings for wins and losses was not statistically significant,
t
(56) = −.52,
SE
= .24,
p
= .60. Additionally, the planned comparison between urge ratings for wins and near-misses was also not statistically significant,
t
(56) = −1.11, SE = .22,
p
= .27.
×
Discussion
In the present study, participants experienced three types of outcomes in Candy Crush during 30 min of playing a real version of the game: Wins (when they levelled up), full losses (when they failed to level up) and near-misses (when they came close to levelling up). Based on previous research, we expected wins to be highly arousing, highly rewarding, and highly motivating.
Our analysis of changes in skin conductance levels provided some, albeit weaker, converging evidence for this relationship. Baseline periods were associated with the largest decreases in SCLs, converging with the lowest heart rates. We note however, that for SCL changes, the baseline was only different from wins, not from losses or near-misses. It is quite possible that SCL changes may have been contaminated by the periodic swiping movements in the game. If so, the changes in SCL slopes over time may depend on how many moves were made in the last 30 s and the delays between swipes. As such we placed greater import on the heart rate measures which were not influenced by play movements.
One limitation of this study was our inability to show near-miss induced increases in arousal using both heart rate and skin conductance levels. Although the predicted effects were shown in heart rate, we failed to find converging evidence from our skin conductance measures. Because we used a real version of Candy Crush we could not manipulate (and counterbalance) the order in which outcomes occurred. Additionally, the fact that we had participants play levels slightly below their skill level and on a tablet rather than on a participants preferred device, may have disrupted the naturalism of game play. Thus, future research could consider having players play games directly from their device at their current level of success to maximize the potential of affective responses to outcome events. Moreover, since the effect of Candy Crush near-misses on urge has been observed, future research can investigate the behavioural consequence of such urge in terms of persistence in play.
Another limitation of this study concerns the post-reinforcement pause lengths following winning outcomes. In Candy Crush, following a winning outcome the players experience a series of eye-catching animations and exciting sounds. Unlike in slots games where players can, with the press of a button, immediately advance to the next game, Candy Crush players must wait until the cessation of these animations before playing a new game in naturalistic play. Thus, had we used the temporal duration between the outcome being revealed and the actual initiation of the next game as a measure of PRPs, these PRPs would be artificially inflated following wins by the presence of the uninterruptable animations. To circumvent this problem, we had players press an external button when they were ready to answer the subjective questions pertaining to that button. Thus, theoretically they could press button this at any time following outcome delivery (either immediately, or following a delay of variable length). Although a substantial portion of our sample initiated a button press during the playing of the animations, some players waited until the end of the animations. Thus it is difficult to get a precise estimate of the length of the true post-reinforcement pause for all participants. To get such a precise estimate, one would have to remove the animations that are played following wins—an empirical move that would dramatically reduce ecological validity.
Conclusion
In conclusion, the present study demonstrated that Candy Crush near-misses appear to have similar psychological and physiological impacts on Candy Crush players as slot-machine near-misses have on gamblers. Specifically, Candy Crush near-misses, just like their gambling-game counterparts, are physiologically arousing, and frustrating, yet motivate the urge to play.
Acknowledgments
This research was supported by the Natural Science and Engineering Research Council of Canada through research Grants to M. J. D.
Compliance with Ethical Standards
Conflict of interest
The authors declare that they have no conflict of interest.
Human and Animal Rights
All procedures performed in studies involving human participants were in accordance with the ethical standards of the institutional and/or national research committee and with the 1964 Helsinki declaration and its later amendments or comparable ethical standards.
Open Access
This article is distributed under the terms of the Creative Commons Attribution 4.0 International License (
http://​creativecommons.​org/​licenses/​by/​4.​0/​
), which permits unrestricted use, distribution, and reproduction in any medium, provided you give appropriate credit to the original author(s) and the source, provide a link to the Creative Commons license, and indicate if changes were made.