01.03.2016 | Brief Communication | Ausgabe 2/2016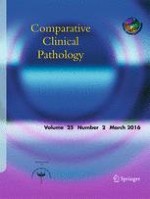 The case report on cutaneous myxoma or invasive myxomatosis in Blackfin sea catfish (
Arius jella

Day, 1877)
Zeitschrift:
Autoren:

Vijayapoopathi Singaravel, Ayyaru Gopalakrishnan, Ramalingam Vijayakumar, Kuzhanthaivel Raja
Abstract
The presence of cutaneous myxoma is reported in a Blackfin sea catfish (
Arius jella
) from Vellar estuary, Parangipettai, southeast coast of India. The gross morphology revealed fleshy with gelatinous distended tumourous growths on both sides of the fish attached to the caudal peduncle region. Tumour overlying the epidermis was ulcerated, hyperemic and hyperchromatic. Histologically, the tumourous growth was characterized by bland spindloid cells embedded in an abundant myxoid extracellular matrix. The tumour masses were present within the dermis and covered with a thin attenuated layer of epidermis. Neoplastic cells were histochemically positive for alcian blue, argyrophilic nuclear organizer regions, Masson's trichrome, periodic acid-Schiff, and toluidine blue and negative for Oil Red O. On the basis of the histological and histochemical findings, this tumour was diagnosed as cutaneous myxoma or invasive myxomatosis.