12.05.2017 | Autoimmune, Cholestatic, and Biliary Diseases (S Gordon and C Bowlus, Section Editors) | Ausgabe 2/2017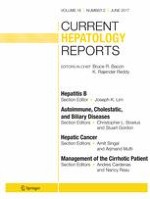 The Causes and Clinical Spectrum of Drug-Induced Cholestatic Liver Injury
Zeitschrift:
Autoren:

Lara Dakhoul, Raj Vuppalanchi
Wichtige Hinweise
Topical Collection on
Autoimmune, Cholestatic, and Biliary Diseases
Abstract
Purpose of Review
A variety of drugs, most notably anabolic steroids and some herbal and dietary supplements (HDS), are associated with drug-induced liver injury (DILI) and cholestasis. In the current review, we highlight the recent data on cholestatic DILI and discuss the potential for novel agents as therapeutic options.
Recent Findings
The clinical phenotype of cholestatic DILI is currently defined based on the "R" ratio calculated from the liver biochemistries at the time of initial presentation. Based on histology, cholestatic DILI may be categorized as acute cholestasis, chronic cholestasis, and cholestatic hepatitis. Histologic injuries include cholangiodestructive features and bile duct loss with the later presentation associated with prolonged recovery period and a poorer prognosis. Current management approaches include early discontinuation of the offending agent, close monitoring, symptom management, selective use of liver biopsy for prognostication, and use of hepatoprotective agents such as ursodeoxycholic acid. Novel treatment agents that are currently under evaluation for the treatment of cholestatic diseases may have a role in the treatment of cholestatic DILI.
Summary
Cholestatic DILI is increasingly being appreciated, especially in the context of HDS with anabolic steroids. Recent studies report prolonged recovery period and poor prognosis when associated with bile duct loss.