09.01.2020 | Original Article | Ausgabe 3/2020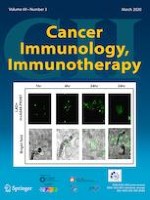 The CD38low natural killer cell line KHYG1 transiently expressing CD16F158V in combination with daratumumab targets multiple myeloma cells with minimal effector NK cell fratricide
Zeitschrift:
Autoren:

Subhashis Sarkar, Sachin K. S. Chauhan, John Daly, Alessandro Natoni, Heather Fairfield, Robert Henderson, Emma Nolan, Dawn Swan, Jinsong Hu, Michaela R. Reagan, Michael O'Dwyer
Wichtige Hinweise
Electronic supplementary material
Subhashis Sarkar and Sachin K. S. Chauhan contributed equally.
Note on previous publication
:
Part of this work was presented as a poster at the annual conference of the American Society of Haematology (ASH) 1–4 December 2018, San Diego, USA (Session-Myeloma: Pathophysiology and Pre-Clinical Studies, excluding Therapy: Poster II). The accompanying abstract was published in a special edition of
Blood
[
1
].
Publisher's Note
Springer Nature remains neutral with regard to jurisdictional claims in published maps and institutional affiliations.
Abstract
Multiple myeloma (MM) is a clonal plasma cell malignancy typically associated with the high and uniform expression of the CD38 transmembrane glycoprotein. Daratumumab is a humanized IgG1κ CD38 monoclonal antibody (MoAb) which has demonstrated impressive single agent activity even in relapsed refractory MM patients as well as strong synergy with other anti-MM drugs. Natural Killer (NK) cells are cytotoxic immune effector cells that mediate in vivo tumour immunosurveillance. NK cells also play an important role during MoAb therapy by inducing antibody dependent cellular cytotoxicity (ADCC) via their FcγRIII (CD16) receptor. Furthermore, 15% of the population express a naturally occurring variant of CD16 harbouring a single-point polymorphism (F158V). However, the contribution of NK cells to the efficacy of daratumumab remains debatable as clinical data clearly indicate the rapid depletion of CD38
high
peripheral blood NK cells in patients upon daratumumab administration. In contrast, CD38
low
peripheral blood NK cells have been shown to survive daratumumab mediated fratricide in vivo, while still retaining their potent anti-MM cytolytic effector functions ex vivo. Therefore, we hypothesize that transiently expressing the CD16
F158V
receptor using a "safe" mRNA electroporation-based approach on CD38
low
NK cells in combination with daratumumab could represent a novel therapeutic option for treatment of MM. In the present study, we investigate a NK cell line (
KHYG-1
), derived from a patient with aggressive NK cell leukemia, as a platform for generating CD38
low
NK cells expressing CD16
F158V
which can be administered as an "off-the-shelf" therapy to target both CD38
high
and CD38
low
tumour clones in patients receiving daratumumab.