01.12.2017 | Review | Ausgabe 1/2017 Open Access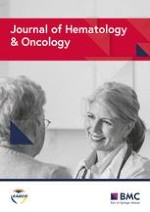 The cell cycle checkpoint inhibitors in the treatment of leukemias
Zeitschrift:
Autoren:

A. Ghelli Luserna di Rora', I. Iacobucci, G. Martinelli
Abbreviations
ALL
Acute lymphoblastic leukemia
ATM
Ataxia-telangiectasia mutated
CDKN1A
Cyclin-dependent kinase inhibitor 1A
CLL
Chronic lymphocytic leukemia
DNA-PK
DNA-dependent protein kinase
MCM
Mini-chromosome maintenance
MYT1
Membrane-associated tyrosine/threonine 1
TopBP1
Topoisomerase II binding protein 1
Background
Conclusions
Nowadays, the amount of pre-clinical data has confirmed the efficacy of different cell cycle checkpoint inhibitors against different kinds of hematologic as well as solid tumors, as single agent, or in combination with a wide number of drugs. The efficacy as well as the safety of different combinations is now being established also in several phase I/II clinical trials. Most of the studies were based on the use of cell cycle checkpoint inhibitors in combination with standard chemotherapy in order to enhance its effectiveness. Although the good successes that have been achieved have many questions needed to be answered regarding the safety and the effectiveness of this class of compounds. Some acute leukemia subtypes are characterized by high genetic instability that should make this kind of tumor very sensitive to cell cycle checkpoint inhibitors. However, few clones can take advantage from the inhibition of DNA repair, acquire novel invasive features, and start to proliferate. Long-period safety of cell cycle checkpoint inhibitors should be addressed also in normal tissues in order to exclude tumor transformation of healthy cells. A second crucial question that should be answered, at least in hematological malignances, is the ability of cell cycle checkpoint inhibitors to eradicate leukemic stem cells in the contest of bone marrow niche. Indeed, until today, very few studies have addressed, for example, the efficacy of the checkpoint inhibitors under hypoxic condition or more general in experimental settings that mime the niche micro-environment. Finally, prognostic markers should be evaluated to stratify patients that could be more sensitive to checkpoint kinase inhibitors. One predictive marker could be the evaluation of basal expression of elements involved in the DDR and the level of genetic instability (γH2AX expression). In our opinion, based on the results from the clinical trials, a last important question should be answered: can we substitute DNA damaging agents (chemotherapy) with DDR inhibitors in standard therapeutic regimens in which a specific inhibitor, for example, BCR-ABL1 inhibitors, is associated with conventional chemotherapy? Several studies have been done to evaluate the chemotherapy-induced genetic instability in various types of cancers [
121
–
123
]. It is generally believed that DNA damaging compounds can positively select tumor cells that harbor particular mutations or can increase genetic instability leading to the generation of novel clones with more aggressive phenotypes. These two scenarios are the biological explanations for the failure of standard chemotherapy and for tumor relapses. For the abovementioned reasons, we speculate that a winning strategy to avoid relapse may be to substitute chemotherapy with cell cycle checkpoint inhibitors in the treatment of hematological malignances that can be treated with specific targeted inhibitors.
Acknowledgements
Not applicable
Funding
The study was funded by the University of Bologna and by the Italian Association for Cancer Research (AIRC).
Availability of data and materials
Data sharing is not applicable to this article as no datasets were generated or analyzed during the current study.
Authors' contributions
AGLDR drafted the first version of the manuscript and created the figures. II and GM equally contributed to the final version of the manuscript and gave the final approval. All authors read and approved the final manuscript.
Competing interests
GM has competing interests with Novartis, BMS, Roche, Pfizer, ARIAD, MSD.
Consent for publication
Not applicable
Ethics approval and consent to participate
Not applicable
Publisher's Note
Springer Nature remains neutral with regard to jurisdictional claims in published maps and institutional affiliations.
Open Access
This article is distributed under the terms of the Creative Commons Attribution 4.0 International License (
http://​creativecommons.​org/​licenses/​by/​4.​0/​
), which permits unrestricted use, distribution, and reproduction in any medium, provided you give appropriate credit to the original author(s) and the source, provide a link to the Creative Commons license, and indicate if changes were made. The Creative Commons Public Domain Dedication waiver (
http://​creativecommons.​org/​publicdomain/​zero/​1.​0/​
) applies to the data made available in this article, unless otherwise stated.