01.12.2017 | Original research article | Ausgabe 1/2017 Open Access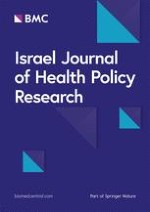 The changing roles of community nurses: the case of health plan nurses in Israel
Zeitschrift:
Autoren:

Rachel Nissanholtz-Gannot, Bruce Rosen, Miriam Hirschfeld, the Community Nursing Study Group
Abstract
Background
In Israel, approximately one-third of the country's nurses work in community settings – primarily as salaried employees in Israel's four non-profit health plans. Many health system leaders believe that the roles of health plan nurses have changed significantly in recent years due to a mix of universal developments (such as population aging and academization of the profession) and Israel-specific changes (such as the introduction of extensive quality monitoring in primary care).
Objectives
The main objectives of the study were to identify recent changes in the roles of health plan nurses and their current areas of activity. It also explored the experience of front-line nurses with regard to autonomy, work satisfaction, and barriers to further role development.
Methods
The study integrated interviews and surveys of nurses and other professionals conducted across 4 years. Data generated from earlier study components were used to guide questions and focus for later components.
In 2013, in-depth interviews were held with 55 senior nursing and medical professionals supplemented by interviews in mid-2017 with the head nurses in the four health plans. In addition, a national survey was conducted in 2014–5 among a representative sample of 1019 community nurses who work for the health plans and who are engaged in direct patient care. Six hundred ninety-two nurses responded to the survey, yielding a response rate of 69%. The survey sample consisted of an equal number of nurses from each health plan, and the observations were weighted accordingly.
Findings
Senior professionals identified general themes associated with a shift in nursing roles, including a transition from reactive to initiated work, increased specialization, and a shifting of tasks from hospitals to community settings. They identified the current main areas of activity in the health plans as being: routine care, chronic care, health promotion, quality monitoring and improvement, specialized care (such as wound care), and home care.
In the survey of front-line nurses, 38% of the nurses identified "caring for chronically ill patients" as their main area of activity aside from routine care; 30% did so regarding "health promotion", and 26% did so regarding "a specific area of specialization" e.g., diabetes, wound care or women's health). In response to a separate question, 77% reported "great" or "very great" involvement in quality measurement programs.
Four out of five front-line nurses were satisfied with their work to a great or very great extent, and approximately three out of four of them (73%) felt that they had autonomy at work to a great or very great extent. About half of the nurses take into account, to a great or very great extent, the financial concerns of the health plans that employ them.
A large majority of the nurses (85%) indicated that the nature of their work had changed substantially in recent years, with an increase in autonomy noted as one of the key changes. Perceived barriers to further role development include attitudes on the part of some physicians and nurses, an insufficient number of dedicated nursing positions, and insufficiently attractive wage levels.
Conclusions
The findings, gathered over 4 years, indicate alignment between universal and Israel-specific trends in health care and the evolving roles of nurses in Israel's health plans.
The findings provide support for ongoing efforts in the health plans to give nurses more authority and responsibility in the management of chronically ill patients, a more central role in health promotion efforts, more advanced training - both inter-professional and nurse-specific, and more opportunity to focus on the roles and tasks that require nursing professionals.