01.12.2008 | Research article | Ausgabe 1/2008 Open Access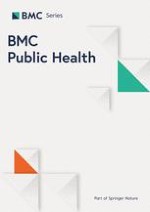 The characterisation of sexual behaviour in Chinese male university students who have sex with other men: A cross-sectional study
Zeitschrift:
Autoren:

Liming Cong, Masako Ono-Kihara, Guozhang Xu, Qiaoqin Ma, Xiaohong Pan, Dandan Zhang, Takayuki Homma, Masahiro Kihara
Wichtige Hinweise
Competing interests
The authors declare that they have no competing interests.
Authors' contributions
All authors contributed to the design of this research. LC and QM performed the statistical analysis and drafted the manuscript; LC and GX coordinated the study in field; QM, XP, and DZ played a major role in the field survey; TH helped analyze the data; MO–K and MK supervised the research, statistical analysis and revised the manuscript. All the authors of the manuscript have read and agreed to its content.
Abstract
Background
The risks for Chinese male university students who have sex with other men (MSM) have not been compared with those for non-MSM students. This information is important for the development of targeted HIV prevention programmes for this population.
Methods
Sexually active MSM and non-MSM students were compared for demographic characteristics, sexual behaviour, and related psychosocial variables using bivariate analyses. The data were a subset drawn from a large-scale cross-sectional questionnaire survey of sexually active male students conducted at two universities in a large city in Zhejiang Province, China, in 2003.
Results
Of 1824 sexually active male students, 68 (3.7%) reported having had sex with a man at least once; 33.8% of these 68 men had also had female partners. Compared with non-MSM students, MSM students were 3–6.5 times more likely to have had sexual encounters with casual or commercial sex partners and were three times less likely to have protected sex in the past year or during their lifetime. They were three to five times more likely to have had multiple partners and 15 times more likely to have had a sexually transmitted disease (STD). In addition, the MSM students knew half as much about HIV and had less condom-decision than did non-MSM students and were two times more accepting of commercial sex. However, the MSM students were twice as aware of the risks for HIV infection.
Conclusion
MSM composed 3–4% of the male sexually active university student population studied and was found to be at greater risk than non-MSM students for STD/HIV infection. There is an urgent need for STD/HIV programmes in university health services that take into consideration the sexuality and psychosocial issues of MSM students.