22.01.2019 | Review | Ausgabe 1/2019 Open Access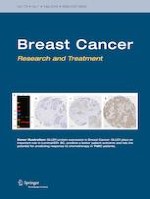 The characterization, management, and future considerations for ErbB-family TKI-associated diarrhea
Zeitschrift:
Autoren:

Hope S. Rugo, Jack A. Di Palma, Debu Tripathy, Richard Bryce, Susan Moran, Elizabeth Olek, Linda Bosserman
Wichtige Hinweise
Susan Moran was an employee of Puma Biotechnology, Inc., during the development and writing of the manuscript. She is now an employee of QED Therapeutics.
Abstract
Purpose
Diarrhea is recognized as a common adverse event associated with tyrosine kinase inhibitors (TKIs), with those targeting the ErbB family of receptors being associated with the highest rate of diarrhea.
Methods
This paper reviews data on the incidence, timing, and duration of diarrhea associated with US Food and Drug Administration-approved ErbB family-targeted TKIs from the published literature, and sets forth recommendations for management.
Results
In the absence of anti-diarrheal prophylaxis the incidence of any-grade diarrhea varies and typically occurs early during the course of treatment. Although it is difficult to determine if the incidence and severity of diarrhea is related to inhibition of a particular kinase target because of the multi-targeted and overlapping activity of many agents, evidence suggests that second-generation TKIs with broader target profiles (i.e., afatinib, lapatinib, neratinib) result in a higher incidence of diarrhea compared with highly specific first- (erlotinib, gefitinib) or third- (osimertinib) generation agents. The mechanisms responsible for TKI-associated diarrhea are not fully understood and are likely multi-factorial, involving dysregulated ion transport, inflammation, and mucosal injury. Management strategies have been developed—and continue to be refined—to prevent and reduce the severity and duration of TKI-associated diarrhea. For agents associated with more significant symptoms, anti-diarrheal prophylaxis reduces the incidence and severity of diarrhea, and ongoing studies are evaluating specific strategies to further reduce incidence and duration of TKI-associated diarrhea.
Conclusions
Continued investigations into risk factors and pharmacogenomic markers for diarrhea may further improve management of this common toxicity.