31.01.2020 | Original Communication | Ausgabe 5/2020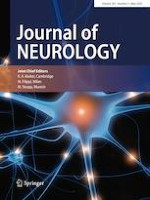 The clinical profile of NMOSD in Australia and New Zealand
Zeitschrift:
Autoren:

Wajih Bukhari, Laura Clarke, Cullen O'Gorman, Elham Khalilidehkordi, Simon Arnett, Kerri M. Prain, Mark Woodhall, Roger Silvestrini, Christine S. Bundell, Sudarshini Ramanathan, David Abernethy, Sandeep Bhuta, Stefan Blum, Mike Boggild, Karyn Boundy, Bruce J. Brew, Wallace Brownlee, Helmut Butzkueven, William M. Carroll, Celia Chen, Alan Coulthard, Russell C. Dale, Chandi Das, Keith Dear, Marzena J. Fabis-Pedrini, David Fulcher, David Gillis, Simon Hawke, Robert Heard, Andrew P. D. Henderson, Saman Heshmat, Suzanne Hodgkinson, Sofia Jimenez-Sanchez, Trevor J. Kilpatrick, John King, Chris Kneebone, Andrew J. Kornberg, Jeannette Lechner-Scott, Ming-Wei Lin, Christopher Lynch, Richard A. L. Macdonnell, Deborah F. Mason, Pamela A. McCombe, Jennifer Pereira, John D. Pollard, Stephen W. Reddel, Cameron Shaw, Judith Spies, James Stankovich, Ian Sutton, Steve Vucic, Michael Walsh, Richard C. Wong, Eppie M. Yiu, Michael H. Barnett, Allan G. Kermode, Mark P. Marriott, John Parratt, Mark Slee, Bruce V. Taylor, Ernest Willoughby, Robert J. Wilson, Fabienne Brilot, Angela Vincent, Patrick Waters, Simon A. Broadley
Wichtige Hinweise
Wajih Bukhari and Laura Clarke are considered as co-first authors.
Abstract
Neuromyelitis optica spectrum disorders (NMOSD) are an inflammation of the central nervous system associated with autoantibodies to aquaporin-4. We have undertaken a clinic-based survey of NMOSD in the Australia and New Zealand populations with the aim of characterising the clinical features and establishing the value of recently revised diagnostic criteria. Cases of possible NMOSD and age and sex-matched controls with multiple sclerosis (MS) were referred from centres across Australia and New Zealand. Cases were classified as NMOSD if they met the 2015 IPND criteria and remained as suspected NMOSD if they did not. Clinical and paraclinical data were compared across the three groups. NMOSD was confirmed in 75 cases and 89 had suspected NMOSD. There were 101 controls with MS. Age at onset, relapse rates and EDSS scores were significantly higher in NMOSD than in MS. Lesions and symptoms referable to the optic nerve were more common in NMOSD whereas brainstem, cerebellar and cerebral lesions were more common in MS. Longitudinally extensive spinal cord lesions were seen in 48/71 (68%) of cases with NMOSD. Elevations of CSF, white cell count and protein were more common in NMOSD. We have confirmed a clinical pattern of NMOSD that has been seen in several geographical regions. We have demonstrated the clinical utility of the current diagnostic criteria. Distinct patterns of disease are evident in NMOSD and MS, but there remains a large number of patients with NMOSD-like features who do not meet the current diagnostic criteria for NMOSD and remain a diagnostic challenge.