01.12.2012 | Research | Ausgabe 1/2012 Open Access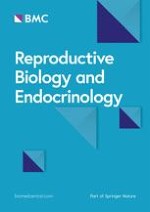 The combination matters - distinct impact of lifestyle factors on sperm quality: a study on semen analysis of 1683 patients according to MSOME criteria
Zeitschrift:
Autoren:

Johannes Wogatzky, Barbara Wirleitner, Astrid Stecher, Pierre Vanderzwalmen, Anton Neyer, Dietmar Spitzer, Maximilian Schuff, Birgit Schechinger, Nicolas H Zech
Wichtige Hinweise
Electronic supplementary material
The online version of this article (doi:
10.​1186/​1477-7827-10-115
) contains supplementary material, which is available to authorized users.
Competing interests
The authors declare that they have no competing interests.
Authors' contributions
JW and NHZ designed and coordinated the study. All authors were responsible for the data collection, analysis, and interpretation presented in the manuscript. BW performed the statistical analyses. MS and BS wrote the manuscript. AS, PV and BW reviewed the manuscript. All authors read and approved the final manuscript.
Abstract
Background
Poor sperm quality can negatively affect embryonic development and IVF outcome. This study is aimed at investigating the influence of various lifestyle factors on semen quality according to MSOME (motile sperm organelle morphology examination) criteria.
Methods
1683 male patients undergoing assisted reproductive technologies (ART) in our clinic were surveyed about their age, BMI (body mass index), ejaculation frequency, nutrition, sports, sleeping habits and social behavior. Semen samples were collected and evaluation of semen parameters according to MSOME and WHO criteria was performed. Results were grouped and statistically analyzed.
Results
Although single parameters had minor effects on sperm parameter, the combination of age, BMI, coffee intake, ejaculatory frequency and duration of sexual abstinence were identified as factors having a negative effect on sperm motility. Additionally, we could demonstrate that MSOME quality was reduced. The negative impact of age, BMI and coffee intake on sperm quality could be compensated if patients had a high ejaculation frequency and shorter periods of sexual abstinence.
Conclusions
Combinations of adverse lifestyle factors could have a detrimental impact on sperm, not only in terms of motility and sperm count but also in terms of sperm head vacuolization. This negative impact was shown to be compensated by higher ejaculation frequency and a shorter period of sexual abstinence. The compensation is most likely due to a shorter storage time in the male gonads, thus reducing the duration of sperms' exposure to reactive oxygen species (ROS).