01.12.2014 | Research | Ausgabe 6/2014 Open Access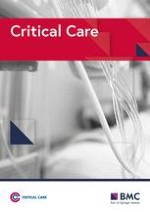 The combined effects of extracorporeal membrane oxygenation and renal replacement therapy on meropenem pharmacokinetics: a matched cohort study
Zeitschrift:
Autoren:

Kiran Shekar, John F Fraser, Fabio Silvio Taccone, Susan Welch, Steven C Wallis, Daniel V Mullany, Jeffrey Lipman, Jason A Roberts
Wichtige Hinweise
Electronic supplementary material
The online version of this article (doi:
10.​1186/​s13054-014-0565-2
) contains supplementary material, which is available to authorized users.
Competing interests
The authors declare that they have no competing interests.
Authors' contributions
KS designed the study, drafted the original protocol, drafted ethics and grant applications, secured grant funding, collected patient samples and data, analysed the results and wrote the initial manuscript. JF, DM, SW and JR assisted with study design and co-ordination. SCW performed meropenem assays. JR and JL provided raw data from their previously published study. JR also assisted with data analysis, PK modelling and drafting of the manuscript. FT critically evaluated the manuscript. All authors read and approved the final manuscript.
Abstract
Introduction
The scope of extracorporeal membrane oxygenation (ECMO) is expanding; however, optimal drug prescription during ECMO remains a developing science. Currently, there are no clear guidelines for antibiotic dosing during ECMO. This open-label, descriptive, matched-cohort pharmacokinetics (PK) study aimed to compare the PK of meropenem in ECMO patients to critically ill patients with sepsis not receiving ECMO (controls).
Methods
Eleven adult patients on ECMO (venovenous (VV) ECMO, n = 6; venoarterial (VA) ECMO, n = 5) receiving intravenous (IV) meropenem were included. Meropenem plasma concentrations were determined using validated chromatography. Population PK analysis was performed using non-linear mixed effects modelling. This data was compared with previously published meropenem PK data from 10 critically ill adult patients not on ECMO (preserved renal function (n = 5) or receiving renal replacement therapy (RRT) (n = 5). Using these data, we then performed Monte Carlo simulations (n = 1,000) to describe the effect of creatinine clearance on meropenem plasma concentrations.
Results
In total, five (two VV, three VA) out of eleven ECMO patients received RRT. The other six patients (four VV, two VA) had no significant impairment in renal function. A two-compartment model adequately described the data. ECMO patients had numerically higher volume of distribution (0.45 ± 0.17 versus 0.41 ± 0.13 L/kg,
P
 = 0.21) and lower clearance compared to controls (7.9 ± 5.9 versus 11.7 ± 6.5 L/h,
P
 = 0.18). Variability in meropenem clearance was correlated with creatinine clearance or the presence of RRT. The observed median trough concentrations in the controls were 4.2 (0.0 to 5.7) mg/L. In ECMO patients, while trough meropenem concentrations >2 mg/L were achieved in all patients, a more aggressive target of >8 mg/L for less susceptible microorganisms was observed in only eight out of eleven patients, with five of them being on RRT.
Conclusions
ECMO patients exhibit high PK variability. Decreased meropenem CL on ECMO appears to compensate for ECMO and critical illness-related increases in volume of distribution. Routine target concentrations >2 mg/L are maintained with standard dosing (1 g IV 8-hourly). However, an increase in dose may be necessary when targeting higher concentrations or in patients with elevated creatinine clearance.