01.12.2018 | Research article | Ausgabe 1/2018 Open Access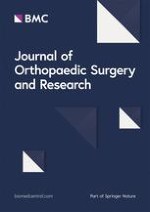 The comparison of clinical outcome of fresh type II odontoid fracture treatment between anterior cannulated screws fixation and posterior instrumentation of C1-2 without fusion: a retrospective cohort study
Zeitschrift:
Autoren:

Suomao Yuan, Bin Wei, Yonghao Tian, Jun Yan, Wanlong Xu, Lianlei Wang, Xinyu Liu
Abstract
Background
Recently, the excellent outcomes of temporary fixation of C1-2 without fusion in the treatment of odontoid fracture had been reported. It is still unclear if this technique could achieve the equivalent outcomes as the golden standard technique of anterior screw fixation. The objective of this study is to compare the clinical outcome of two treatments of fresh type II odontoid fracture: anterior cannulated screws fixation (ACSF) versus posterior instrumentation of C1-2 without fusion (PIWF).
Methods
This is a retrospective study. This series included 28 males and 8 females, and the mean age was 41.5 years (range, 22 to 70 years). Eleven patients were treated with ACSF, and 25 patients with PIWF. For PIWF, the implants were removed after fracture union was confirmed at 0.75~1.5 years later. All patients underwent preoperative and serial postoperative clinical examinations at approximately 3 months, 6 months, and annually thereafter. The neck disability index (NDI) was used to assess the neck discomfort caused by the operation. The range of rotary motion was evaluated at each visit. All fractures were reassessed postoperatively with serial X-films and CT scans of the cervical spine at each follow-up visit, to evaluate screw position, fracture alignment, and fusion status.
Results
All patients achieved immediate spinal stabilization after surgery, and none experienced neurologic deterioration. The follow-up periods ranged from 24 to 60 months. The average range of neck rotation was dramatically lost in PIWF after fixation (46° and 89° respectively in ACSF and PIWF), and recovered to 83° after the implant was removed. The NDI in PIWF was statistically higher than that in ACSF (5 and 13% respectively in ACSF and PIWF) after the first operation and decreased to 8% 1 year after the secondary operation. The fusion rates were 90.9 and 96% respectively in ACSF and PIWF. Both groups had a case of fracture non-union.
Conclusions
For fresh type II odontoid fractures, high rate of fracture union can be achieved by both ACSF and PIWF. For most fresh type II odontoid fractures, anterior screw fixation was the best option for its simplicity and preservation of normal atlanto-axial rotary function. Posterior instrumentation without fusion could preserve most of the atlanto-axial rotary function and lead to moderate neck discomfort and is also a good alternative if anterior screw fixation is contraindicated.