04.07.2016 | Annotated Sequence Record | Ausgabe 10/2016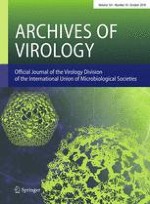 The complete genome sequence of a novel
Fusarium graminearum

RNA virus in a new proposed family within the order

Tymovirales
Zeitschrift:
Autoren:

Xiaoguang Chen, Hao He, Xiufen Yang, Hongmei Zeng, Dewen Qiu, Lihua Guo
Abstract
The complete nucleotide sequence of Fusarium graminearum deltaflexivirus 1 (FgDFV1), a novel positive single-stranded (+ss) RNA mycovirus, was sequenced and analyzed. The complete genome of FgDFV1/BJ59 was shown to be 8246 nucleotides (nt) long excluding the poly(A) tail. FgDFV1/BJ59 was predicted to contain a large open reading frame (ORF 1) and four smaller ORFs (2-5). ORF1 encodes a putative replication-associated polyprotein (RP) of 2042 amino acids (aa) and contains three conserved domains, viral RNA methyltransferase (Mtr), viral RNA helicase (Hel) and RNA-dependent RNA polymerase (RdRp). ORFs 2-5 encode four putative small hypothetical proteins (12-18 kDa) with unknown biological functions. Phylogenetic analysis based on RP sequences indicated that FgDFV1 is phylogenetically related to soybean leaf-associated mycoflexivirus 1 (SlaMyfV1) and Sclerotinia sclerotiorum deltaflexivirus 1 (SsDFV1), which form a well-supported and independent group belonging to a newly proposed family
Deltaflexiviridae
within the order
Tymovirales
. However, FgDFV1 is markedly different from SsDFV1 and SlaMyfV1 in genome organization and nucleotide sequence. FgDFV1 may represent an additional species in the new genus
Deltaflexivirus
or possibly a new genus in the proposed family
Deltaflexiviridae.