07.02.2018 | Original Article | Ausgabe 2/2018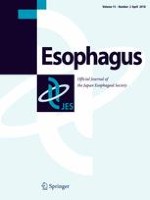 The concentration of programmed cell death-ligand 1 in the peripheral blood is a useful biomarker for esophageal squamous cell carcinoma
Zeitschrift:
Autoren:

Yasunori Akutsu, Kentaro Murakami, Masayuki Kano, Takeshi Toyozumi, Yasunori Matsumoto, Masahiko Takahashi, Ryota Otsuka, Nobufumi Sekino, Masaya Yokoyama, Tadashi Shiraishi, Hisahiro Matsubara
Abstract
Background
We determined the serum concentrations of Programmed cell death-1 (PD-1) and its ligands (PD-L1 and PD-L2) in patients with esophageal squamous cell carcinoma (ESCC).
Methods
Blood samples were collected from 85 patients with histologically proved ESCC. Serum levels of PD-1, PD-L1, and PD-L2 were measured using enzyme linked immunosorbent assays. Correlations between serum PD-1, PD-L1, and PD-L2 concentration and tumor depth, number of lymph node metastases, organ metastasis status, or disease stage were assessed and five-year survival rates according to clinicopathological characteristics were calculated.
Results
The concentration of PD-1 was not differed according to tumor progression. On the other hand, the average concentration of PD-L1 in patients with T3/T4 disease was 15.6 (12.2–18.3) pg/mL (25–75%), and this was significantly higher than that in patients with Tis/T1/T2 disease (
p
= 0.020). Similarly, PD-L1 levels were significantly higher in patients with positive lymph nodes than in cases with negative lymph node involvement (
p
= 0.006) and were higher in patients with organ metastasis (
p
= 0.123) and in more advanced stage (
p
= 0.006). Similar tendency was observed regarding PD-L2 concentrations. PD-L2 concentration was higher in T3, T4 cases (
p
= 0.008), in LN positive cases (
p
= 0.032), and in more advanced stage (
p
= 0.024).
Conclusion
Our data showed that a concentration of PD-L1 in peripheral blood was high in advanced cancer and high concentration of PD-L1 predicted disease progression and also poor survival in patients with ESCC.