Erschienen in: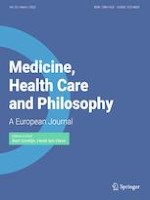 Open Access 25.11.2021 | Scientific Contribution
The concept of social dignity as a yardstick to delimit ethical use of robotic assistance in the care of older persons
Erschienen in: Medicine, Health Care and Philosophy | Ausgabe 1/2022
Abstract
With robots being introduced into caregiving, particularly for older persons, various ethical concerns are raised. Among them is the fear of replacing human caregiving. While ethical concepts like well-being, autonomy, and capabilities are often used to discuss these concerns, this paper brings forth the concept of social dignity to further develop guidelines concerning the use of robots in caregiving. By social dignity, we mean that a person's perceived dignity changes in response to certain interactions and experiences with other persons. In this paper, we will first present the concept of social dignity, and then identify a niche where robots can be used in caregiving in an ethical manner. Specifically, we will argue that, because some activities of daily living are performed in solitude to maintain dignity, a care recipient will usually prefer robotic assistance instead of human assistance for these activities. Secondly, we will describe how other philosophical concepts, which have been commonly used to judge robotic assistance in caregiving for the elderly so far, such as well-being, autonomy, and capabilities, are less useful in determining whether robotic assistance in caregiving is ethically problematic or not. To conclude, we will argue that social dignity offers an advantage to the other concepts, as it allows to ask the most pressing questions in caregiving.
Publisher's Note
Springer Nature remains neutral with regard to jurisdictional claims in published maps and institutional affiliations.
Introduction
In an attempt to improve caregiving, both for the patient and the caregiver, robots are being introduced into the healthcare system (Vandemeulebroucke et al.
2018
). So far, their tasks include gathering information about patients (Kim et al.
2013
; Putte et al.
2019
), assisting people with dementia through prompts in activities of daily living (ADLs; Wang et al.
2017
), or to mobilize patients by interacting with them (Pfadenhauer and Dukat
2015
), among others. These tasks have one feature in common: in order to execute them, the robots "socialize" with the care recipients, meaning that they interact with them in ways that mimic interactions with other persons or animals. They are thus social robots (Sparrow and Sparrow
2006
). The introduction of social robots has caused worries about its ethical consequences, especially in regards to replacing human caregiving. The different concerns range from fear of isolation and loss of human contact, to questions about privacy (Pirhonen et al.
2020
; Sharkey
2014
; Sharkey and Sharkey
2012
; Sparrow and Sparrow
2006
; Wangmo et al.
2019
).
Our paper adds to the ethical discussion of using robots in caregiving for the elderly in two ways. Firstly, drawing from the concept of social dignity, we suggest a specific way in which robotic assistance can mitigate the fear of replacing human caregiving, and thus be ethically less problematic. We highlight that because dignity is a social concept and depends on how we interact (or not) with others, some caregiving tasks can be outsourced to robots. The reason being that the presence of a robot could be more dignifying than the presence of a human caregiver. These tasks include (and are possibly not limited to) all areas of private personal hygiene, from bowel and bladder movements to personal cleaning. By looking at these ADLs (which we will call "non-social ADLs" in this paper) through the lens of dignity, we argue for increased efforts in developing robots that would provide helpful assistance in certain ADLs. Secondly, we will present how different philosophical concepts, such as well-being, capabilities and autonomy, are rather unreliable in offering guidance as to whether robotic assistance in caregiving is ethically problematic or not, especially in regards to the fear of replacing human caregivers. Thus, we will return to the concept of social dignity, to show that it is actually a better concept to help us judge in the matter of robotic caregiving, as it focuses more clearly on the ethical issue at hand. In the end, our arguments should convince readers that the ethical challenge of using social robots is untangled slightly thanks to the concept of social dignity, and that robotic assistance in certain ADLs might not only be ethically permissible, but in fact desirable, as it would increase the sense of dignity in both patients and caregivers.
Structure
This paper is structured into four sections. We start with presenting the current landscape of robotic assistance in caregiving, showing how it is focused on mimicking behavior and interaction from persons or animals, making social robots the prevalent form of robotic assistance in current caregiving. This will be followed by ethical concerns raised in the use of social robots. While the field of caregiving is very wide and diverse, this paper will focus on the context of caregiving for older persons. This will be followed by the introduction of social dignity as a concept. We will elaborate on its usefulness in regards to the decision of robotic assistance in caregiving for the elderly, especially because it allows the identification of a specific area where robotic caregiving might actually be desirable. Third, we discuss the concepts currently used to discuss social robots in caregiving, such as well-being, autonomy, and capabilities, and show how they rest indecisive. This is where we want to circle back to social dignity, and propose an alternative to look at the ethical problems at hand. Finally, we offer a discussion in which we put our arguments in the current caregiving context, hoping to inspire researchers and engineers to take a new direction in the development of assistive robots in caregiving.
The current landscape of robotic assistance in caregiving and associated ethical concerns
Robotic assistance in caregiving
Ethical concerns with social robotics
Dignity as a promising concept to assess the ethics of robotic assistance
Furthermore, introducing robots into non-social ADLs should not promote further isolation of care recipients. That is, while we argue that some personal activities such as using the bathroom could be delegated to robotic assistance and that doing so is ethically acceptable, we delimit our argument to such personal activities that humans prefer and have been socialized to be carried out in privacy. Therefore, other personal activities such as grooming one's hair, medical examinations, cooking and/or eating (to name a few) should most likely remain in the hands of human caregivers as interactions with other human beings is an important constituent of what makes us human. In other words, our argument should not raise the question whether social interactions with robots would replace said interactions with human beings as robotic assistance is delegated to non-social ADLs only, thus preserving dignity-of-self, and not touching on dignity-in-relation.
The niche of non-social ADLs to preserve their dignity-of-self, is ideal to implement robotic assistance. This solves at least part of the question whether robotic assistance in caregiving of older persons is ethical, as it identifies a place where it is. Nevertheless, we do not have a clear answer yet when it comes to other caregiving tasks and robotic assistance. In the following, we will examine how other concepts are used to deal with robotic assistance in caregiving for the elderly, as they relate to social dignity.
Limitations of common philosophical concepts for evaluating robotic assistance
The concepts of well-being, capabilities, and autonomy have been used in helping to help determine whether robotic assistance in caregiving is or is not ethical. While each concept has strengths, it also has limitations in dealing with this issue, when compared to the concept of social dignity.
Well-being
Sparrow and Sparrow (
2006
) evoke the intuitive concept of well-being (without defining it) to argue that many forms of robotic care would be actually detrimental to the care recipients. They base this on the assumption that since relationships formed with robots are unauthentic and possibly even deceptive, they cannot contribute to a person's well-being. Borenstein and Pearson (
2010
), on the contrary hold that robots can mitigate feelings of isolation, thus increasing well-being. These two varying arguments based in the same principle (the increase of well-being) show how ambivalent the concept can be. This is firstly due to a lack of consensus in the definition of well-being (King et al.
2014
). Secondly, well-being can be subcategorized in objective and subjective, among others (Gasper
2005
) which in turn complicates the discussion. For example, it is not clear in Sparrow and Sparrow's argument if their straightforward rejection of social robots is based on the subjective experience of well-being or objective criteria. Does the substitution of human relationships with robotic companions make one objectively unwell? What if the robots treat the patient much nicer, more thoughtfully and attentively than the human caregivers? Or is the subjective well-being diminished, but only in those patients who are actually aware of the replacement, and on top of that, dislike it? This suggests that the discussion be taken on a case by case basis, in which patients have to decide for themselves if a robot increases or decreases their subjective sense of well-being.
We suggest that the above arguments evoking well-being might be better conceptualized in terms of social dignity than well-being. Issues, such as unauthenticity and possible deception, as discussed by Sparrow and Sparrow, seem more relevant to social dignity than to well-being. For instance, in the case of spousal betrayal and deception in marriage, the well-being rests unaffected as long as the betrayal is not discovered. However, dignity might be affected even before the infidelity has been discovered because the person is likely to feel humiliated retrospectively: the humiliation doesn't only affect the moment when truth is known, but is extended to all those moments where the relationship was deemed to be authentic. In the case of Borenstein and Pearson, their argument that robots can mitigate feelings of isolation, and thus preserve well-being, can even more deeply extend to the preservation of social dignity, we would argue. This is especially true if it is non-voluntary, and also the reason why solitary confinement can be considered as will-breaking torture (Lauritzen
2012
).
5
To illustrate how social dignity avoids the ambiguity of well-being, let us look at the following example: Certain drugs induce a very pleasant state. And in a very old, frail person, one could argue that life-shortening drug-abuse is negligible, because the person has arrived at the end of her life anyway, and the pain experienced without the injection of drugs decreases the well-being of that person significantly. Thus, from a stance of well-being, it might be beneficial to offer the older people substances such as MDMA or heroin in order to keep them in a perpetually pleasant state. Their physical (they are not in pain), mental (they feel bliss thanks to the drug), and perhaps social (as they could take the drugs together with other care recipients and thus experience a collective, drug-induced high) well-being is maintained, through the constant injection of drugs. Although these last few months of an old person's life might be pleasant, they are probably unethical, making well-being alone not suitable to decide on such a measure. Further, let us assume that it were theoretically possible that robots used in nursing homes could ensure that elders were well fed, groomed and socially engaged, and that the elders experience a sense of well-being even in the absence of any human contact. The absence of this human component, as argued by many scholars would give us pause that this arrangement, based on well-being alone, was ethically acceptable. A likely objection to such treatment is precisely that it would be undignified.
6
Barilan's discussion on dignity and deception raises this objection: he mentions Nozick's famous "experience machine" and argues that it would be undignified to hook persons suffering from dementia to it, as the harm their dignity suffers through deception is greater than the benefits of endless pleasurable experiences (Barilan
2012
, p. 354). Thus, invoking social dignity instead of well-being gives clearer guidance on the use of social robots in caregiving for the elderly.
The capabilities approach
The next concept, which is the capabilities approach (Nussbaum and Sen
1993
), calls for distributional justice to ensure that every person has the same capabilities to lead a flourishing life. In the caregiving context, as argued by Borenstein and Pearson (
2010
), this would mean maintaining previously existing capabilities (if they want to be maintained). Caregiving robots, then, could be a way to maintain such capacities: "To the extent that robot caregivers can mitigate further declines in an individual's health, they will also help ensure that individuals have the choice to actualize capabilities rather than live as relative prisoners of their impairments or the needs or whims of human caregivers" (Borenstein and Pearson
2010
, p. 281). This goes in line with our argument about social dignity. If the capacities to take care of oneself, especially in regards to tasks that are done in privacy are maintained through the help of robots, then dignity-of-self is maintained as well.
Nevertheless, approaching the issue of robotic assistance through capabilities will not give adequate guidance for robotic assistance in the social realm, for two reasons. First, the ten items on Nussbaum's list of capabilities that need to be ensured in order to live a human life contains the following item: "Emotions. Being able to have attachments to things and people outside ourselves (…)" (
2000
, p. 79). This admits an attachment to robots. However, item 7 might offer grounds to reject social robots, both in its version A and B: "Affiliation. A. Being able to live with and toward others, to recognize and show concern for other human beings, to engage in various forms of social interaction (…); B. Having the social bases of self-respect and non-humiliation (…)" (ibidem, p. 79). Firstly, it all depends on whether we exclude robots from "various forms of social interaction", and/or if we consider interactions with robots as humiliating or not, especially if they are all an (older) person is expected to get in terms of care.
7
Second, Nussbaum does not give further guidance here, as she insists on the approach's "
multiple realizability
" (ibidem, p. 76), meaning that the list can be adapted—to a certain extent—to a given context. This flexibility of the theory gives leeway to accommodate a variety of social standards and practices. Taking the aforementioned example, we would need to decide in advance if interactions with robots form part of the capability to build and/or maintain healthy relationships. If it is a yes, then robotic caregiving is acceptable. If it is a no, social robots should not be used in the caregiving context. Borenstein and Pearson (2012) seem inclined to a yes (p. 282). To the extent that we would substitute a robot for a human in embracing the capabilities approach, however, we are ethically challenged by the shift from robotic assistance to full replacement—something most writers found ethically unacceptable.
Let us look at an example to make the issue with capabilities clearer: Imagine that Anna visits her grandmother once a week. Anna later buys her a personal "Pepper" to interact with (and possibly monitor her). Anna views the robot as an assistance for her grandmother that engages and maintains her grandmother's social capacities. However, if Anna stops visiting her grandmother after introducing Pepper, it's no longer an assistance but replacement of the interactions that she would have provided. In between this continuum of actual assistance and total replacement, the issue is less clear-cut. The robot might indeed be a good excuse to cancel some of Anna's visits, as she feels less guilty because her grandmother has a "companionship". Nevertheless, the robot helps the grandmother's cognitive abilities, making conversation with her more stimulating. In addition, the robot provides great conversation-material. The visits might indeed become less frequent but of higher quality, because both the grandmother and Anna enjoy them more. How should we now classify the net impact on the grandmother's capabilities of "Emotion" and "Affiliation"? She might develop an emotional attachment to the robot, which in and of itself can be seen as positive under the capabilities approach (she cares and is emotionally engaged). However, despite liking the robot, enjoying its company, and using it as a subject for conversation with her daughter, she might feel increased disappointment because she notes Anna's decreasing visits, and feels less affiliated to her. It is difficult to judge if the robot has been good or bad for the grandmother's capabilities overall. Thus, the capabilities approach is rather unsatisfying in solving the problem of robotic assistance in human caregiving.
Here again, we suggest a turn towards social dignity in order to evaluate more clearly if social robots are suitable for caregiving or not. From a psychological perspective, it seems that humans quite easily create social bond with robots, even if they are not humanoid (Sung et al.
2007
). The fact that the people in this study seemed unbothered by this relationship with their cleaning robot might indicate that they indeed perceive these relationships as dignified, or at least neutral. In addition, a certain emotional attachment to things is permissible in our culture. If someone has a nickname for her smartphone, or talks to her computer, we do not judge the person as having an undignified relationship with said phone or PC. As long as the relationships to non-humans do not lead to a complete rejection or termination of relationships to humans, it seems possible that robots actually preserve our dignity-in-relation, as they provide relationships which feel respectful and pleasant.
8
Returning to the example of Anna and her grandmother, the fact that Pepper is helping to maintain the relationship between the two is considered beneficial for the grandmother's dignity, and therefore ethically permissible.
Autonomy
The last concept we want to discuss is autonomy. For illustration, let us use a (partial) definition by Decker (
2008
): "(…) the ability of persons to spontaneously adopt attitudes and carry out actions, which are in principle not predictable (cf. Mackay 1967). Personal autonomy takes place in the form of actions in the sphere of reasons. These do not have to be determined morally or, in a narrower sense, rationally. Life plans in the sense of wishes and interests constitute a typical case of personal autonomy" (p. 320).
9
Again, the concept of autonomy can be used both to caution against caregiving robots or to encourage their use. For example, Decker himself, with reference to Kant's categorical imperative, states that care recipients must not be treated as objects in a caregiving context, and admits the possibility that robots could potentially do that (2008, p. 323). If the robot would only provide assistance when required and desired by the care recipient, which would translate into more freedom and independence, overall autonomy could be increased through a caregiving robot (ibidem). Sharkey and Sharkey (
2012
) also recognize the possibility of increased autonomy for the elderly through the use of robots. Nevertheless, they foresee complications, like those associated with paternalistic programming of robotic assistance (for example, refusing to execute other tasks until the patient has taken her medicine).
The great merit of autonomy with regards to robotic assistance is that it acknowledges that care recipients are not and should not be passive in the caregiving process, emphasizing the assistive function of robots. That is, the capacity to take decisions and actions should not be undermined, and that caregiving robots need to respect, ensure, and possibly enhance this capacity. Nevertheless, using autonomy to limit the use of robotic assistance is not sufficient because autonomy (unlike the other concepts discussed in this paper) can actually be non-existent (or more precisely denied) in certain care recipients, especially in those who need more intense caregiving. Thus, respecting the autonomy of patients, one of the most upheld and unquestioned values in current bioethics,
10
as currently conceptualized as moral autonomy in traditional bioethics, is a value that cannot be applied to all older persons. For example, people suffering from dementia are considered less autonomous, even to the point of no longer having autonomy at all, compared with healthy older people because the formers' cognitive capabilities are limited (Pirhonen et al.
2020
), a necessary condition for retaining moral autonomy. They cannot, or in some cases, are presumed to be unable to spontaneously adopt attitudes and carry out actions that are their own, as the disease clouds their judgement and thinking, even if their wishes remain and their will is intact; as long as they are unable to communicate their wishes, or are perceived as lacking good judgment, they are not honored as having autonomy. In addition, (verbal and non-verbal) communication is also often impacted. Thus, they cannot express in an autonomous fashion if they would accept a robotic caregiver or not.
11
Furthermore, their executional autonomy might be limited as well, as introducing the robotic assistance requires some form of learning and adapting to a new situation, which could prove impossible for dementia patients. Nevertheless, some might be capable of adopting robots as their caregivers, and actually welcome it, as it would provide them with more functional autonomy
12
indeed (Pageau
2019
). For example, a robot that is serving dinner, then patiently waiting to retrieve the plate, provides more autonomy for an easily distracted nursing home resident who takes time to finish a meal, than a nurse who will hurry the resident because she has to work on a tight schedule. However, here again we necessarily wander into hypothetical fields that will be decided case by case. Some people will take the autonomous decision to adopt robots in caregiving, and have the executional autonomy to handle them. Some people will refuse to do so. And others might not even be capable of giving their consent, and neither of using the robot, as they are deprived of autonomy, due to illness, or more precisely, the limiting philosophical lens that deprives them of autonomy on assumptions that their gestures, statements or actions, are the product of pathology rather than authentic efforts to communicate their wishes (McLean
2007
). In conclusion, autonomy only offers limited guidelines in the use of robots, especially in regards to populations who only possess partial autonomy or none at all.
The concept of social dignity is not so limiting. A person with dementia possesses the same dignity as another adult without the disease, and thus both must and can be treated equally when it comes to the question of whether robotic assistance is useful or not. Therefore, coming back to the previous example, we can ask ourselves if a robot fetching dinner for a person with dementia increases their social dignity (through increased functional autonomy, or more precisely, where autonomy would be denied them, by respecting and satisfying their wishes), compared to a nurse who dictates feeding time and duration for a person. We would argue that it does.
In short, the concept of social dignity is an insightful addition to the currently used concepts to discuss robotic assistance in caregiving for the elderly. Firstly, we have shown that robots can inherently preserve the dignity-of-self, which is part of social dignity, as they allow care recipients to execute a specific type of ADLs in private—that is, the non-social ADLs—without the dignity-infringing presence of a human caregiver. In addition, robotic assistance in other types of ADLs can also be judged through the lens of social dignity, as one can ask if interactions with social robots enhances or damages one's perception of his or her social dignity. Although the concept of social dignity does not give a final verdict pertaining to ethics for all robotic assistance in caregiving, at least it boils the question down to one concept, which facilitates philosophical discussion in the future. Finally, the ethical utility of the concept of social dignity in considering issues of robotic care, can serve to highlight the serious limitations of the construct of moral autonomy as unjustly denying recognition to persons with dementia.
Discussion
For example, if human care received by an elderly patient is limited to the non-social ADLs (i.e. personal hygiene such as bowel and bladder movements and dressing), then delegating this assistance to robots would further isolate the patient as he or she is not in need of other support. But this might result in the care recipient only interacting with caregivers during mealtimes, and even then, as has been suggested above, caregivers may continue to be rushed and stressed, thus not providing any significant interaction. This worry is mentioned by Sparrow and Sparrow (2010), who argue that the introduction of robots into caregiving will result in more patients per nurse and robot, and hence not produce the desired outcome of more quality time to spend with older patients, reducing isolation and increasing their social dignity.
Conclusion
In this paper, we discussed how the introduction of robotic assistance in caregiving for older persons raises ethical concerns. We then proposed the concept of social dignity as an ethical lens for considering these issues, and identified a niche where robotic assistance is ethically preferable to human assistance. This niche is located in non-social ADLs, where privacy is desired and socially expected, such as during activities related to personal hygiene. We then described how other scholars have addressed the ethical issues surrounding robotic assistance in caregiving, utilizing the concepts of well-being, capabilities and autonomy, and identified some of their limitations. We then turned to the concept of social dignity in an attempt to gain further ethical insight into the use of robotic assistance in caregiving for the elderly. We conclude that social dignity may help facilitate ethical considerations in the use of robots in elder care with regards to particular types of ADLs. By focusing on the unique circumstances and experience of each person, social dignity provides a valuable lens for considering the relevant ethical uses, thus facilitating the philosophical discussion. Our analysis may encourage designers and engineers, in conjunction with potential users, to venture further into the construction of specific social robots which assist in non-social ADLs, as this would provide notable benefits for both care recipients and caregivers, and give scholars further input in discussing the other areas in which robotic assistance can be used in the future of caregiving for the elderly.
Declarations
Conflict of interest
There are no conflicts of interest.
Open Access
This article is licensed under a Creative Commons Attribution 4.0 International License, which permits use, sharing, adaptation, distribution and reproduction in any medium or format, as long as you give appropriate credit to the original author(s) and the source, provide a link to the Creative Commons licence, and indicate if changes were made. The images or other third party material in this article are included in the article's Creative Commons licence, unless indicated otherwise in a credit line to the material. If material is not included in the article's Creative Commons licence and your intended use is not permitted by statutory regulation or exceeds the permitted use, you will need to obtain permission directly from the copyright holder. To view a copy of this licence, visit
http://​creativecommons.​org/​licenses/​by/​4.​0/​
.
Publisher's Note
Springer Nature remains neutral with regard to jurisdictional claims in published maps and institutional affiliations.