30.01.2019 | Sleep Breathing Physiology and Disorders • Original Article | Ausgabe 4/2019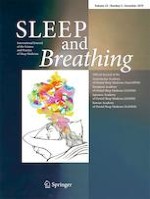 The correct measurement of oxygen saturation at high altitude
Zeitschrift:
Autoren:

Markus Tannheimer, R. Lechner
Wichtige Hinweise
Publisher's note
Springer Nature remains neutral with regard to jurisdictional claims in published maps and institutional affiliations.
Abstract
Background
Compared to measurements at sea level, measurement of oxygen saturation by pulse oximetry (SpO2) at altitude differs fundamentally because of the cyclical course of SpO2, caused by periodic breathing. Therefore, the determination of a representative SpO2 value is difficult. In the literature, recommendations for a standardized measurement procedure are missing; different studies measure SpO2 in different ways.
Key question
Does the visually determined SpO2 value correlate with the actual average of the measurement interval?
Methods
Four participants of an expedition (6013 m; Pakistan), familiar with pulse oximetry at altitude, wrote down the representative value of the measurement interval of 3 min (SpO2visual) according to their individual observation. The used pulse oximeter saved the value for SpO2 every 4 s. Based on this, the calculated mean (SpO2memory) was compared to SpO2visual after finishing the expedition (128 measurements > 2500 m).
Results
The spread of the single values within the measurement interval is high (in single cases up to 17%-points) in case of insufficient acclimatization. With increasing acclimatization, the measured values stabilize. SpO2visual differs only marginally (− 0.4%-points; ± 0.8) compared to SpO2memory.
Conclusions
The correct pulse oximetric determination of SpO2 at high altitude requires a standardized measurement procedure; the investigator is familiar and trained. Anyway, the measurements have to be done in the continuous mode of the pulse oximeter over a sufficient timeframe (3 SpO2-fluctuation cycles; 2–3 min). We recommend to record the maximum and the minimum value of the measurement interval and to use a pulse oximeter device with memory function.