01.12.2017 | Research article | Ausgabe 1/2017 Open Access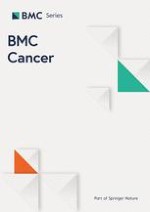 The correlation between poor prognosis and increased yes-associated protein 1 expression in keratin 19 expressing hepatocellular carcinomas and cholangiocarcinomas
Zeitschrift:
Autoren:

KyuHo Lee, Kyoung-Bun Lee, Hae Yoen Jung, Nam-Joon Yi, Kwang-Woong Lee, Kyung-Suk Suh, Ja-June Jang
Wichtige Hinweise
Electronic supplementary material
The online version of this article (doi:
10.​1186/​s12885-017-3431-1
) contains supplementary material, which is available to authorized users.
Abbreviations
cHC-CCA
Combined hepatocellular-cholangiocarcinoma
EHBCA
Extrahepatic bile duct carcinoma
EpCAM
Epithelial cell adhesion molecule
IHCCA
Intrahepatic cholangiocarcinoma
PFS
Progression-free survival time
Background
This study aimed to assess the role of the Hippo pathway in hepatic carcinogenesis and morphogenesis by comparing YAP1 expression in hepatic carcinomas, categorized into eight disease groups (including HCCs, CCAs, and intermediate hepatic carcinomas), and analyzing the clinicopathological characteristics of YAP1 expressing tumors in each disease group.
Methods
Patient selection and the collection of clinicopathological parameters
We studied a total of 913 patients who had been pathologically diagnosed with HCC, cHC-CCA, intrahepatic CCA (IHCCA), and extrahepatic bile duct CCA (EHBCA) from resected specimens, had available medical records, and possessed formalin-fixed paraffin blocks of tumor tissue at the archives of the department of pathology in Seoul National University Hospital stored between 1992 and 2012. A total of 624 HCC patients were included, while 31 cHC-CCA patients were enrolled. A total of 16 (52%) patients displayed cHC-CCAs with stem cell features and 15 (48%) patients displayed the classical type. Two hundred and thirty-nine IHCCA patients were included in our study group, with 24 (10%) of them showing in the cholangiolocellular type. Nineteen EHBCA patients were included, all of them with perihilar Klatskin tumors. The diagnostic criteria for each group followed the guidelines established in the 2010 4th edition of the WHO classification of tumors of the digestive system [
4
]. A total of 913 patients were categorized into 8 disease groups based on their histological diagnosis and CK19 expression levels. The eight disease groups were: 1) CK19(−) HCC, 2) CK19(−) scirrhous HCC, 3) CK19(+) HCC, 4) cHC-CCA with stem cell features, 5) the classical type of cHC-CCA, 6) cholangiolocellular IHCCA, 7) non-cholangiolocellular IHCCA, and 8) EHBCA. The composition of the total cohort and disease groups is summarized in Fig.
1
.
×
Clinical information, such as age, gender, presence of chronic liver disease, underlying etiology of chronic liver disease, post-operative tumor recurrence or metastasis and survival, preoperative treatment, and serum α-fetoprotein (AFP) was collected from existing medical records. Pathological information, such as tumor size, the number of tumors, vascular invasion, large vessel invasion, Edmondson-Steiner nuclear grade for HCCs, differentiation for CCAs, cellular type of tumor cells, histological pattern, the presence of desmoplastic stroma, and the pathological stage was collected from pathological reports and from reviewing the slides. Criteria for the determination of pT (pathologic T stage) followed the liver, intrahepatic bile duct tumor, or perihilar bile duct tumor staging guidelines established by the American Joint Committee on Cancer [
19
]. The clinicopathological parameters followed the general rules for the study of primary liver cancers [
20
]. This study was approved by the Institutional Review Board of Seoul National University Hospital (H-1011-046-339). Patient demographics can be seen in Table
1
.
Table 1
Patient demographics (
N
= 913)
HCC (624)

cHC-CCA (31)

IHCCA (239)

EHBCA (19)

Stem cell (16)

Classical (15)

CLC(24)

Non-CLC(215)

Sex (M:F ratio)

4.9

2.2

14

2

2.9

1.1

 Male

518(83)

11(69)

14(93)

16(67)

160(74)

10(53)

 Female

106(17)

5(31)

1(7)

8(33)

55(26)

9(47)

Age (year, mean ± SD)

54 ± 10

51 ± 12

58 ± 8

60 ± 10

62 ± 9

58 ± 12

Chronic liver disease

593(95)

16(100)

12(80)

12(50)

39(18)

0(0)

 Viral

557(94)

10(63)

9(75)

7(58)

27(69)

0(0)

 Non-viral

36(6)

5(31)

3(25)

5(42)

12(31)

0(0)

pT stage (AJCC 7th)

 pT1

256(41)

9(56)

3(20)

7(29)

81(38)

1(5)

 pT2-pT4

360(58)

7(44)

12(80)

17(71)

131(61)

17(89)

Progress

 Recur or metastasis

395(63)

7(44)

10(67)

11(46)

144(67)

12(63)

 PFS (median, month)

26

103

12

NA

11

20

Death

 Deceased

352(56)

6(38)

10(67)

6(25)

110(51)

18(95)

 OS (median, month)

77

91

21

NA

61

18
Construction of tissue microarrays and immunohistochemical staining
YAP1 expression was assessed on tissue microarrays. CK19 expression was assessed on a representative slide glass for 624 HCCs and 31cHC-CCAs. CK19(+) HCCs and cHC-CCA. In case of CK19(+) HCC or 31cHC-CCAs, CK19(+) tumor areas and CK19(−) tumor areas were selected for the tissue microarrays used for YAP1 staining. One core tissue specimen (2 mm in diameter) was collected from each individual paraffin-embedded tissue and rearranged in new tissue array blocks using a trephine apparatus (SuperBioChips Laboratories, Seoul, Korea). Each tissue microarray had four cores of normal liver, normal bile duct, and normal gastrointestinal tract mucosa as internal controls. Four-μm-thick glass slides were stained for YAP1 (mouse monoclonal anti-human YAP1, H-9, Cat.# sc-271,134, 1:100, Santa cruz biotechnology, Inc) and CK19 (mouse monoclonal anti-human cytokeratin 19, Clone RCK108, Cat. # M0888, 1:100, Dako) after an antigen retrieval process using Bond Epitope Retrieval Solution 2 at 99 °C for two minutes (Leica Biosystems, Wetzlar, Germany). The slides were automatically stained using Bond-Max IHC and ISH slide stainer and a Bond Polymer Refine Detection Kit (Leica Biosystems, Wetzlar, Germany). YAP1 expression was graded based on its nuclear expression. The intensity of nuclear staining was graded as negative, weak (1+), moderate (2+), or strong (3+). Antibody for CK19 was positively stained in cytoplasm and cellular membrane and the intensity of the positive staining was graded as negative, weak (1+), moderate (2+), or strong (3+). Two pathologists (KB Lee and KH Lee) evaluated the immunoreactivity of the samples and any discrepant cases were reevaluated. For the comparative analysis of protein expression and clinicopathological parameters, dichotomized values, as positive and negative, were used. The criteria for positivity was ≥2+ intensity in ≥5% of tumor cells (Fig.
2
).
×
Statistical analysis
Comparative analysis of clinicopathological parameters was conducted using the chi-squared (χ
2
) test or the Fisher's exact test. Survival analysis was performed using Kaplan-Meier analysis and the Cox's proportional hazards model. Progression-free survival (PFS) was defined as the time to local or distant progression. Overall survival (OS) was defined as the time to any cause of death. The results were considered statistically significant when
p-
values were <0.05. All tests were performed using the IBM SPSS version 21.
Results
Discussion
Our study demonstrated that increased nuclear expression of YAP1 could be observed in cholangiocarcinomas (EHBCA and IHCCA) and a subset of hepatocellular carcinomas (CK19(+) HCC) and that nuclear YAP1 expression was correlated with poor overall survival in pT1 stage IHCCA patients. Interestingly, YAP1 expression rate in cHC-CCAs and cholangiolocellular IHCCAs was not so high as in EHBCAs, IHCCAs and CK19 (+) HCCs and was more similar to the expression levels seen in the CK19 (−) HCC group.
The Hippo pathway plays a major role in liver regeneration, development, and regulation. The determination of cellular lineage is of vital importance to this process. Activated YAP1 often induces hepatomegaly in animal models with mutated Hippo pathway genes, but the cellular components of the over-grown liver vary depending on the nature of the defective genes, e.g. hepatocyte proliferation, biliary hyperplasia, or abundant hepatic progenitor cells [
21
,
22
] . Therefore, the determination of cell fate cannot be solely explained by activated YAP1. The level of activated YAP1 has also been associated with the determination of cell fates, differentiation to hepatocytes, and dedifferentiation to stem cells or progenitor cells [
12
]. In hepatic carcinogenesis, the genomic amplification of loci containing YAP1 in HCCs, suggests that YAP1 might possess an oncogenic effect [
23
]. As the determination of cell fate is extremely complicated, a simple inactivation of the Hippo pathway or the over-expression of YAP1 cannot induce liver cancer with an identical histological type [
21
]. Overexpression of YAP1 has been reported in the early phase of hepatocellular carcinomas, but the induction of hepatoblastoma required coactivation of β-catenin and interaction with PI3K has been reported to be involved in the induction of CCAs [
24
–
26
].
Based on this function of YAP1, we expected a gradual increase of YAP1 expression from HCCs to CCAs and culminating in high levels of overexpression in cHC-CCAs, cholangiolocellular CCAs, and CK19(+) HCCs, which are known to have "stemness" traits. However, only CK19(+) HCCs showed increased levels of YAP1 expression, as the levels of YAP1 expression in non-cholangiolocellular IHCCAs. Regardless of subtype, the cHC-CCAs showed a low positive rate of YAP1 expression, as did the CK19 (−) HCC group. The cholangiolocellular type of IHCCAs, which was assumed to originate from the hepatic progenitor cells in the canal of Hering, also had low YAP1 expression. The results we obtained were different from those seen in a previous study, which reported heightened levels of YAP1 in both HCCs with stemness and in cHC-CCAs when compared to HCCs without stemness [
27
]. As CK19(+) HCCs in our study were similarly defined as "HCCs with stemness", increased YAP1 expression in CK19(+) HCCs was a consistent finding between two studies, but a similar result for cHC-CCAs could not be reproduced. CK19(+) expression in HCCs has been generally considered an indicator of stemness and poor prognosis for CK19(+) HCC patients was thought to be due to this stemness trait [
10
]. However, hepatic carcinomas with stemness features showed heterogeneous clinical behavior in our study cohort. Among the 8 disease groups, CK19(+) HCCs, cHC-CCAs with stem cell features, classical cHC-CCAs and cholangiolocellular type IHCCAs could be classified into stem cell feature carcinomas and this 4 disease groups could be divided into two different survival groups (log rank
p
-value = 0.001, Additional file
1
: Figure S1). cHC-CCAs with stem cell features and cholangiolocellular IHCCAs were grouped with CK19(−) HCCs in displaying similar or better PFS than CK19(−) HCCs (median, 103 vs. 23 months, log rank
p
-value within groups 0.123 within groups) (Additional file
1
: Fig. S1). However, CK19(+) HCCs were included in the poor prognosis group, together with IHCCAs and classical cHC-CCAs (median, 18 vs. 11 vs. 12 months, log-rank
p
-value within groups 0.670) (Additional file
1
: Figure S1). Although other prognostic factors such as stages, preoperative or postoperative treatment modalities and difference of group size should be considered on the interpretation of prognosis, this result suggests that hepatic carcinoma with stemness features may be a heterogeneous entity and is consistent with the short mention about the conflict evidences of prognosis of cHA-CCA with stem cell feature [
4
]. Furthermore, hepatic carcinomas with stemness features are extremely heterogeneous in regards to their morphology and clinicopathological behavior as described in Table
1
and result section. Therefore, the expression of stemness markers in hepatic carcinomas might be due to poor differentiation or the acquisition of invasiveness by the tumor cells, and not due to the acquisition of stemness. Although we could identify an association between poor prognosis and activated YAP1 in hepatic carcinomas, this was only confirmed in the pT1 stage IHCCA patients. Nevertheless, we did observe a similar trend in the tumor progression of pT1 stage HCC patients. These results are consistent with previous studies reporting on the prognostic value of activated YAP1 in CCAs and HCCs [
28
,
29
]
Conclusions
Our study tried to elucidate the role of the Hippo pathway in the morphogenesis of the liver in regards to liver carcinomas and found that YAP1 activation was more commonly found in CCAs than pure HCCs. However, the heterogeneous pattern of YAP1 expression between cHC-CCAs and CK19(+) HCCs and the poor prognosis of YAP1 positive hepatic carcinomas suggests that YAP1 may have a preferential role in aggressive tumor behavior, rather than in the determination of cellular lineage in hepatic carcinomas.
Acknowledgements
Not applicable.
Funding
This research was supported by a grant of the Korea Health Technology R&D Project through the Korea Health Industry Development Institute (KHIDI), funded by the Ministry of Health & Welfare, Republic of Korea (grant number: HI14C3298) of which was used in collection of material, immunostaining, and analysis of this study.
Availability of data and materials
Individual data and material could not be shared, because the consent to share the material and data in public domain was not included in the research protocol which was approved by institutional review board.
Authors' contributions
JJJ and KBL designed and coordinated this study and drafted the manuscript. KHL and KBL carried out the immunoassays, interpretation and analysis. HYJ contributed to the acquisition of pathologic data. NJY, KWL,and KSS collected clinical data (survival, tumor progression, and data about underlying chronic liver disease) and advised interpretation of survival analysis. All authors read and approved the final manuscript.
Competing interests
The authors declare that they have no competing interests.
Consent for publication
Not applicable.
Ethics approval and consent to participate
This study was approved by the Institutional Review Board of Seoul National University Hospital (H-1011-046-339) with waiver of informed consent. The reason for waiver of informed consent was that it was practically impossible to receive consent from all patients in retrospective case-control study and this study was a minimal risk study that did not cause additional physical, psychological, and economic risks to patients because it studies anonymized stored samples and data.
Publisher's Note
Springer Nature remains neutral with regard to jurisdictional claims in published maps and institutional affiliations.
Open Access
This article is distributed under the terms of the Creative Commons Attribution 4.0 International License (
http://​creativecommons.​org/​licenses/​by/​4.​0/​
), which permits unrestricted use, distribution, and reproduction in any medium, provided you give appropriate credit to the original author(s) and the source, provide a link to the Creative Commons license, and indicate if changes were made. The Creative Commons Public Domain Dedication waiver (
http://​creativecommons.​org/​publicdomain/​zero/​1.​0/​
) applies to the data made available in this article, unless otherwise stated.