01.12.2014 | Research | Ausgabe 1/2014 Open Access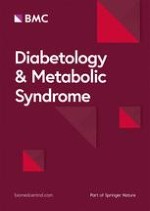 The cost of type 2 diabetes in Brazil: evaluation of a diabetes care center in the city of São Paulo, Brazil
Zeitschrift:
Autoren:

Natalie Botelho Borges, Marcos Bosi Ferraz, Antonio Roberto Chacra
Wichtige Hinweise
Competing interests
The authors declare that they have no competing interests.
Authors' contributions
BNB conceived the study, participated in its design, collecting the data, making the statistical analysis and drafting the paper. FMB participated in the study design and in the text drafting; CAR conceived and coordinated the study. All authors read and approved the final manuscript.
Abstract
Background
The worldwide increase of diabetes, a long duration, slow progression disease, impacts health care costs. The aim of this study was to estimate, from the society's perspective, the annual cost per patient with Type 2 Diabetes (T2DM) at a specialized, outpatient center in the city of São Paulo, capital of São Paulo state, Brazil.
Methods
Data from 209 patients were collected during the years 2009 and 2010 in a São Paulo diabetes care center which is part of the tertiary sector of SUS, Brazil's National Health Care System. Data were collected by means of interviews and reviews of medical charts, and the quality of life was appraised using the SF36-v2 questionnaire. Direct medical costs were divided in five categories: 1) medication; 2) laboratory tests; 3) hospitalizations and procedures; 4) reactive strips for capillary blood glucose monitoring; and 5) medical consultations. Direct non-medical costs referred to transportation of patient and companion for treatment. Indirect costs included early retirements, sick leave and absenteeism in the workplace. Statistical analysis of the data was performed by the SPSS software, version 17.0.
Results
Our sample comprised 122 women (58%) and 87 men (42%), with mean age of 63 years and average diabetes duration of 13 years. The mean annual cost was US$ 1,844 per patient, out of which US$ 1,012 corresponded to direct costs (55%) and US$ 831 to indirect costs (45%). From the direct medical costs, medications accounted for the greatest proportion (42%), followed by reactive strips (27%), hospitalizations and procedures (14%), laboratory tests and image examinations (7%), as well as medical consultations (4%). Non-medical costs (transportation) corresponded to 7% of the total direct costs. Besides, the results indicated that men have better quality of life than women.
Conclusion
This study demonstrated a high T2DM cost in Brazil, considering the governmental per capita expenses in health care, which accounted for US$ 466 in 2010 (World Health Statistics 2013 96-104 2013). Taking into account the high prevalence of the disease (IDF Diabetes Atlas. 5th edition. 29-48 2012), this survey recommends the enforcement of policies for the prevention of diabetes and its complications, and urges for better allocation of healthcare resources.