01.12.2017 | Case report | Ausgabe 1/2017 Open Access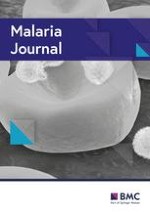 The dangers of accepting a single diagnosis: case report of concurrent
Plasmodium knowlesi

malaria and dengue infection
Zeitschrift:
Autoren:

Soon Eu Chong, Rhendra Hardy Mohamad Zaini, Siti Suraiya, Kok Tong Lee, Jo Anne Lim
Abstract
Background
Dengue and malaria are two common, mosquito-borne infections, which may lead to mortality if not managed properly. Concurrent infections of dengue and malaria are rare due to the different habitats of its vectors and activities of different carrier mosquitoes. The first case reported was in 2005. Since then, several concurrent infections have been reported between the dengue virus (DENV) and the malaria protozoans,
Plasmodium falciparum
and
Plasmodium vivax.
Symptoms of each infection may be masked by a simultaneous second infection, resulting in late treatment and severe complications.
Plasmodium knowlesi
is also a common cause of malaria in Malaysia with one of the highest rates of mortality. This report is one of the earliest in literature of concomitant infection between DENV and
P. knowlesi
in which a delay in diagnosis had placed a patient in a life-threatening situation.
Case presentation
A 59-year old man staying near the Belum-Temengor rainforest at the Malaysia–Thailand border was admitted with fever for 6 days, with respiratory distress. His non-structural protein 1 antigen and Anti-DENV Immunoglobulin M tests were positive. He was treated for severe dengue with compensated shock. Treating the dengue had so distracted the clinicians that a blood film for the malaria parasite was not done. Despite aggressive supportive treatment in the intensive care unit (ICU), the patient had unresolved acidosis as well as multi-organ failure involving respiratory, renal, liver, and haematological systems. It was due to the presentation of shivering in the ICU, that a blood film was done on the second day that revealed the presence of
P. knowlesi
with a parasite count of 520,000/μL. The patient was subsequently treated with artesunate-doxycycline and made a good recovery after nine days in ICU.
Conclusions
This case contributes to the body of literature on co-infection between DENV and
P. knowlesi
and highlights the clinical consequences, which can be severe. Awareness should be raised among health-care workers on the possibility of dengue-malaria co-infection in this region. Further research is required to determine the real incidence and risk of co-infection in order to improve the management of acute febrile illness.