16.03.2019 | Research Article | Ausgabe 2/2019 Open Access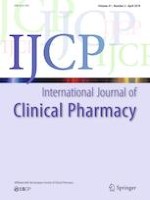 The description and definition of Emergency Department Pharmacist Practitioners in the United Kingdom (the ENDPAPER study)
Zeitschrift:
Autoren:

D. Greenwood, M. P. Tully, S. Martin, D. Steinke
Wichtige Hinweise
Publisher's Note
Springer Nature remains neutral with regard to jurisdictional claims in published maps and institutional affiliations.
Abstract
Background
Due to a shortage of emergency department doctors and nurses, hospitals have started to employ pharmacists who have additional clinical skills, known as Emergency Department Pharmacist Practitioners, to help deliver services.
Objective
To describe, compare and define the Emergency Department Pharmacist Practitioner role.
Setting
UK emergency departments.
Method
Using a purpose developed questionnaire hosted on a tablet computer, Emergency Department Pharmacist Practitioners were asked to report their contribution to patient care and the wider emergency department over 10 work days.
Main outcome measure
Emergency Department Pharmacist Practitioners' work.
Results
Twenty Emergency Department Pharmacist Practitioners from 15 UK hospitals were recruited. Of 682 patients cared for, 4.8% (n=33) were of blue triage category (least urgent) and 4.1% (n=28) red (immediate need). Specific activities to inform patient diagnosis included clinical examinations (264/682 patients, 38.7%) and the review of investigation/test/procedure results (270, 39.6%). For treatment, EDPPs prescribed a total of 603 medicines (for administration in the ED) to 266 patients (39.0%) and performed procedures for 63 (9.2%). Eleven of the practitioners also took on the role of designated care provider (i.e. the healthcare professional with overall clinical responsibility) for at least some of their patients. From application of the care typology, all 20 practitioners carried out both 'traditional' and 'practitioner' activity and 9/20 of them sometimes provided more 'practitioner' than 'traditional' care to individual patients. Seven key role attributes were identified including how these pharmacists support patients with medical complaints and injuries of any severity and at any stage of their visit.
Conclusion
Emergency Department Pharmacist Practitioners combine traditional clinical pharmacy activities with more hands-on medical practise including being designated care provider. The role is versatile in that care and support provided to patients and the wider emergency department professional team is varied and therefore somewhat adaptable to situations which present.