01.12.2014 | Research | Ausgabe 1/2014 Open Access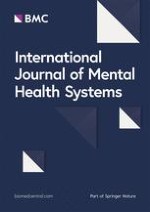 The development of mental health services within primary care in India: learning from oral history
Zeitschrift:
Autoren:

Nadja van Ginneken, Sanjeev Jain, Vikram Patel, Virginia Berridge
Wichtige Hinweise
Competing interests
VP and SJ are members of the Mental Health Policy Group which has provided recommendations to the Central Government of India recommendations on restructuring the DMHP for the 12th Five Year Plan.
Authors' contributions
NvG conceived of the study, participated in its design and coordination, carried out the interviews and drafted the manuscript. VB guided NvG in the conception and design of the study, and supervised her work. VP also helped with conception of the study and helped choose relevant participants for the study. VB, SJ and VP provided guidance on analysis and interpretation of the material. All authors read and approved the final manuscript.
Abstract
Background
In India very few of those who need mental health care receive it, despite efforts of the 1982 National Mental Health Programme and its district-level component the District Mental Health Programme (DMHP) to improve mental health care coverage.
Aims
To explore and unpack the political, cultural and other historical reasons for the DMHP's failures and successes since 1947 (post-independence era), which may highlight issues for today's current primary mental health care policy and programme.
Methods
Oral history interviews and documentary sourcing were conducted in 2010–11 with policy makers, programme managers and observers who had been active in the creation of the NMHP and DMHP.
Results
The results suggest that the widely held perception that the DMHP has failed is not entirely justified, insofar that major hurdles to the implementation of the plan have impacted on mental health coverage in primary care, rather than faults with the plan itself. These hurdles have been political neglect, inadequate leadership at central, state and district levels, inaccessible funding and improperly implemented delivery of services (including poor training, motivation and retention of staff) at district and community levels.
Conclusion
At this important juncture as the 12th Five Year Plan is in preparation, this historical paper suggests that though the model may be improved, the most important changes would be to encourage central and state governments to implement better technical support, access to funds and to rethink the programme leadership at national, state and district levels.