15.12.2016 | Original Article | Ausgabe 2/2017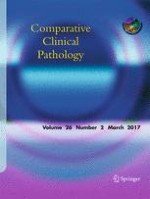 The diagnostic accuracy of oxidative stress biomarkers in sheep with pneumonic pasteurellosis
Zeitschrift:
Autoren:

Wael M. El-Deeb, Ahmed Elmoslemany
Abstract
The goal of this study was to decide the diagnostic accuracy of oxidative stress biomarkers in infected sheep with
Pasteurella multocida.
Blood samples were collected from 56 sheep (36 naturally infected with
Pasteurella multocida
and 20 healthy controls) belonging to one farm in Al-Ahsa region, Saudi Arabia. Serum samples were evaluated for oxidative stress markers (malondialdehyde (MDA), superoxide dismutase (SOD), glutathione (GSH) and catalase (CAT)). Additionally, nasal swabs and bronchoalveolar lavages were gathered from all sheep for bacteriological investigations. Receiver operating characteristic curve was used to assess the diagnostic performance of each parameter. The results showed significantly higher MDA level and lower SOD, GSH and CAT levels in pneumonic sheep compared to healthy controls. Both MDA and CAT showed the highest positive (
r
 = 0.72) and negative (
r
 = −0.71) correlation with disease status, respectively. Finally, MDA showed a relatively better test characteristic than other parameters, with an area under the curve (AUC = 0.93) indicating high degree of discrimination between control and pneumonic sheep. Conclusively, this study shed the light on the value of oxidative stress biomarkers in the diagnosis of naturally occurring pneumonic pasteurellosis in sheep.