17.04.2020 | Ausgabe 2/2020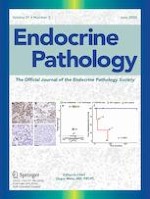 The Diagnostic Dilemma of GATA3 Immunohistochemistry in Pheochromocytoma and Paraganglioma
Zeitschrift:
Autoren:

Noriko Kimura, Kiyoto Shiga, Kenichi Kaneko, Chiho Sugisawa, Takayuki Katabami, Mitsuhide Naruse
Wichtige Hinweise
Publisher's Note
Springer Nature remains neutral with regard to jurisdictional claims in published maps and institutional affiliations.
Abstract
Although GATA3 has been recognized as a useful marker for mammary and urothelial carcinomas, there is large variation in GATA3 expression detected in pheochromocytoma (PC) and paraganglioma (PGL), from 90% to less than 5%. For GATA3 to be a useful diagnostic marker for PCCs/PGLs, the reasons for such discrepancy must be elucidated. Thus, we compared different immunohistochemistry protocols. Three protocols for GATA3 immunohistochemistry, including the use of an automated slide stainer or manual staining with an autoclave and EDTA buffer vs citric acid buffer, were compared. Whole sections of paraffin-embedded tumors, including 30 PCCs, 37 PGLs including 15 head and neck PGLs, 5 retroperitoneal PGLs, 17 urinary bladder PGLs, and 14 neuroblastoma group tumors, were examined and compared with mammary and urothelial carcinoma sections as positive controls. Using the automated slide stainer (Benchmark ULTRA; Ventana Medical Systems) with both buffers, mammary and urothelial carcinomas demonstrated strong GATA3 positivity; however, PCCs/PGLs showed negative or weak heterogeneous staining. Manual staining with an autoclave for antigen retrieval resulted in increased GATA3 immunoreactivity in all head and neck PGLs, all retroperitoneal PGLs, 88% of urinary PGLs, 17% of PCCs, and all neuroblastomas, except for ganglion cells. The normal adrenal medulla stained weakly and heterogeneously. In conclusions, immunohistochemistry for GATA3 in PCCs/PGLs requires stronger antigen retrieval than that in mammary and urinary carcinomas. This finding is especially important to consider if GATA3 is applied for the differential diagnosis of PGLs in unusual sites as supplemental data to the expression of catecholamine-synthesizing enzymes.