01.12.2017 | Research | Ausgabe 1/2017 Open Access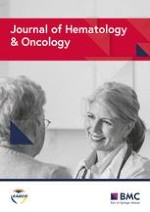 The distinct biological implications of
Asxl1

mutation and its roles in leukemogenesis revealed by a knock-in mouse model
Zeitschrift:
Autoren:

Yueh-Chwen Hsu, Yu-Chiao Chiu, Chien-Chin Lin, Yuan-Yeh Kuo, Hsin-An Hou, Yi-Shiuan Tzeng, Chein-Jun Kao, Po-Han Chuang, Mei-Hsuan Tseng, Tzu-Hung Hsiao, Wen-Chien Chou, Hwei-Fang Tien
Wichtige Hinweise
Electronic supplementary material
The online version of this article (doi:
10.​1186/​s13045-017-0508-x
) contains supplementary material, which is available to authorized users.
Abbreviations
Asxl1
tm/+
Asxl1
G643WfsX12 heterozygous mice
CAFC
Cobblestone-area-forming cell assay
ChIP-Seq
Chromatin immunoprecipitation sequencing
CMP
Common myeloid progenitors
CRU
Competitive repopulating unit assay
GMP
Granulocyte-monocytic progenitors
GSEA
Gene Set Enrichment Analysis
H3K27me3
Tri-methylation of Histone 3 at lysine 27
HPC
Hematopoietic progenitors
HSPC
Hematopoietic stem cells and progenitors
LTC-IC
Long-term culture-initiating cells
MEP
Megakaryocyte-erythroid progenitors
Background
Methods
Generation of
Asxl1

mutation knock-in mice

The cognate mouse mutation is predicted to be c.1925dupG; p.G643WfsX12, encoding 654 amino acids mimicking the most common form of human mutant ASXL1 protein, compared to 1514 residues in wild-type Asxl1 protein. Potential chimeras were crossed with wild-type C57BL/6 mice to facilitate the confirmation of germ-line transmission, their offspring who harbored

Asxl1

mutation were backcrossed with C57BL/6 to generate inbred strains then maintained at C57BL/6 background. Heterozygous mice were mated with wild-type mice to get heterozygous mice and littermate control mice. Heterozygous mice were mated with each other to get homozygous mice. Mice between 2- to 6-month age were used for experiment except those were assigned to long-term observation cohort. All animals were housed in specific pathogen-free animal facility and all procedures were approved by IACUC of the National Taiwan University College of Medicine.
Chromatin immunoprecipitation sequencing (ChIP-Seq)
We used Lin
-
bone marrow cells as a surrogate to identify genome-wide histone modification affected by
Asxl1
mutations. Chromatin lysate was harvested and sonicated with a sonicator (Bioruptor®Pico) to shear the DNA into a length ~200 bp, then it was hybridized with anti-H3K27me3 (Millipore, Germany). Immunoprecipitated DNA was sent to the National Center for Genome Medicine and sequenced by Illumina HiSeq 2000 sequencer with 100 × 2 bp paired-end sequencing.
ChIP-Seq data analysis
Sequencing reads were aligned to the mm10 mouse reference genome by Burrows-Wheeler Alignment tool (BWA; version 0.7.15). We used the Model-based Analysis of ChIP-Seq tool (MACS2) to detect peaks of reads between sample and input sequences in
ASXL1
tm/+
and wild-type bone marrow cells.
ASXL1
tm/+
(or wild-type) specific peaks were called by intersecting the identified peaks with BEDTools v2.17.0 [
21
]. These condition-specific peaks were annotated by Peak Annotation and Visualization (PAVIS) and analyzed for the enrichments in gene regions [
22
]. To realize the biological functions governed by the interaction of
Asxl1
mutation and H3K27me3, we analyzed peaks-associated genes by The Database for Annotation, Visualization and Integrated Discovery (DAVID) v6.8 with default settings [
23
,
24
]. Furthermore, we performed motif analysis on sequences around the condition-specific peaks (±250 bps from peak center) by MEME-ChIP web tool included in the MEME Suite [
25
,
26
]. Sequencing reads and identified peaks were visualized with Integrative Genome Viewer (IGV) [
27
,
28
].
Statistical analysis
In vitro and in vivo experiments were performed at least three times independently. Data were processed in Microsoft Excel or GraphPad Prism software. Student's
t
test, paired
t
test, ANOVA or chi-square test were used to compare the differences in values between groups.
For the other experimental procedures, please see the Additional file
1
.
Results
Discussion
For the first time, we have demonstrated the pathophysiological functions of a "physiological" dose of
Asxl1
mutations in vivo and in vitro. In contrast to the previous studies with enforced overexpression of mutant ASXL1 protein in a background of two wild-type alleles of endogenous
Asxl1
[
18
,
19
], our model facilitated investigation of a more clinically relevant
Asxl1
mutation.
In our study, we noted while
Asxl1
mutation promoted engraftment of
MN1
-overexpressing cells and showed increased colony formation and cobblestone area formation, the LSK cells bearing
Asxl1
mutation had inferior repopulation capacities when compared with wild-type cells in vivo. This counterintuitive observation could be explained by two possibilities: (1) in our in vivo transplantation assays (Figs.
3
and
4
), we assessed the activities of HSCs. But
MN1
overexpression targeted committed progenitor cells, not HSCs [
35
]. This may explain the discrepancies between these experimental results; (2) in serial transplantation, the marrow stem cells were taken and expanded in a previously irradiated microenvironment, not normal hematopoietic niche. Spangrude et al. have shown a vastly inferior repopulation capacity of LSK cells repeatedly exposed to such perturbed microenvironment [
36
]. Such radiation perturbation on microenvironment was absent in colony formation and cobblestone area formation assays, and less severe in
MN1
overexpressing cell transplantation assays. We could not rule out the possibility that
Asxl1
mutant cells were particularly susceptible to this factor, thus showing decreased repopulation capacity in serial transplantation assays, while similar phenomenon was not shown in the other assays without serial irradiation. Moreover, Kamminga et al. showed that although a gradual decrease of the percentage of LSK cells was observed when LSK cells were used as donor cells in serial transplantation, only minor decrease was observed for the clonogenic CAFC activity of the purified cells [
37
]. These results suggested that in vivo repopulation ability of LSK cells might be affected by residue host cells or competitor cells. They also highlighted the limitation of current animal assays to detect the "real" in vivo hematopoietic stem cell activities.
In our model,
Asxl1
G643WfsX12 mutation did not lead to leukemia or other blood malignancies in a 18-24-month observation period, indicating that a physiological dose of
Asxl1
G643WfsX12 was not sufficient for leukemogenesis. Nevertheless, the mutation could enhance engraftment of
MN1
overexpressing cells, suggesting that
Asxl1
mutation could function as a cooperative hit of
MN1
overexpression to promote the engraftment of bone marrow cells. This is consistent with the clinical observation that
ASXL1
mutant burden often increases in disease progression and mutations in
ASXL1
[
38
–
41
], as well as other genes encoding epigenetic modifiers, were often acquired early in the disease and were almost never found in isolation [
42
].
Gene expression microarray and GSEA showed limited difference between
Asxl1
tm/+
and wild-type control bone marrow cells under steady state, consistent with our observation that
Asxl1
tm/+
mice did not develop obvious blood diseases. In
MN1
overexpression background, the expression patterns and physiological pathways between
Asxl1
mutation and wild-type became distinctive (Fig.
7
), implying the promoting effects of
Asxl1
mutation on
MN1
overexpression-induced engraftment of bone marrow cells. The high number of differentially expressed genes and perturbed biological pathways in human
ASXL1
-mutated versus wild-type AML cells demonstrated a far more complicated milieu in human AML cells compared with mice HSPCs with
Asxl1
mutation per se (Fig.
7a, b
).
From our microarray studies, we found that
Asxl1
mutation alone in mice had little effects on both gene expression profiles and biological pathways, while the perturbation became obvious in the presence of
MN1
overexpression. How
MN1
overexpression augments the genomic effects of
Asxl1
mutation is not completely defined in our study, but we found that
Asxl1
mutation plus
MN1
overexpression, but not
Asxl1
mutation alone, was associated with enrichment of signatures representing multipotent progenitors and hematopoietic stem cells, as well as genes related to oncogenic
MEK
.
Hypoxia-related genes are considered critical for the survival of leukemia initiation cells [
34
,
43
]. The enrichment in hematopoietic stem cell and multipotent progenitor gene sets further implies the supporting function of
ASXL1
mutation in blood malignancies.
KRAS
is considered relevant in leukemia formation [
44
–
46
]; the enrichment in
KRAS
gene set confers the possibility that mutant ASXL1 act as a cofactor in disease development. MAPK/ERK pathway is crucial for hematopoiesis and aberrant MAPK/ERK pathway is associated with cancer formation [
47
]. RAS signaling are also considered to be involved in AML transformation at both genetic and epigenetic levels [
48
]. Bone marrow cells of our mouse model were supposed to have
Asxl1
mutation alone, but in
ASXL1
-mutated human AML cells, we expected there were additional genetic perturbations. One of the advantages of our mouse model was that it enabled us to interrogate the functions of
Asxl1
mutation per se, in a "simpler" genetic background. This was probably why we saw different biological effects of
MN1
overexpression between BM cells in our mouse model and human AML cells with more complex genetic background.
Since
Asxl1
has been considered to be associated with the regulation of H3K27me3, we performed ChIP-Seq to investigate the alteration of global H3K27me3 pattern in
Asxl1
tm/+
bone marrow cells. Considerable numbers of H3K27me3 peaks specific to
Asxl1
tm/+
and to wild-type bone marrow cells were noted and preponderantly located within 5 k upstream and 1 k downstream of gene bodies. These results indicate that
Asxl1
mutation can modulate the global pattern of histone methylation in a non-random manner, preferentially immediate to the gene bodies. In addition, in
Asxl1
mutated cells, the correlation between H3K27m3 and gene down-regulation appears attenuated when compared with
Asxl1
wild-type context, suggesting functional implications of Asxl1 functions in H3K27me3 modulation. Taken together, our systematic analyses unveiled crucial oncogenic functions perturbed by the interplay between
Asxl1
mutation and
MN1
overexpression that may partially account for the cooperative role of
Asxl1
mutations in
MN1
-associated leukemia in human and mouse settings and the functional impacts of
ASXL1
mutation in human AML.
Conclusions
Taken together, for the first time, our study reveals the in vitro and in vivo effects of a "physiological" dose of
Asxl1
mutation. Although mutant
Asxl1
does not act as a sufficient driver in blood malignancies, it facilitates engraftment of cells overexpressing
MN1
. Our study also enlightens the effects on global H3K27m3 profiles by
Asxl1
mutation and several potential biological pathways underlying mutant
ASXL1
.
Acknowledgements
We thank the technical services provided by the Transgenic Mouse Model Core Facility of the National Core Facility Program for Biotechnology, Ministry of Science and Technology, Taiwan, the Gene Knockout Mouse Core Laboratory of National Taiwan University Center of Genomic Medicine, and the National Center for Genome Medicine.
MN1
expression construct was a kind gift from Dr. R. Keith Humphries. We would like to acknowledge the service provided by the Flow Cytometric Analyzing and Sorting Core Facilities at National Taiwan University Hospital and First Core Laboratory of National Taiwan University College of Medicine. We thank the Taiwan Mouse Clinic (MOST 105-2325-B-001-010) which is funded by the National Research Program for Biopharmaceuticals (NRPB) at the Ministry of Science and Technology of Taiwan for technical support in complete blood count and tissue section experiment. We thank the Drs. Hsing-Chen Tsai, Dr. Tai-Chung Huang, and Yen-Wei Chen for the technical support in ChIP-Seq sample preparation and analysis. We also thank the National Center for Genome Medicine for the technical and bioinformatics service in ChIP-Seq analysis. We appreciated the staff of the Eighth Core Lab, Department of Medical Research, National Taiwan University Hospital for technical support during the study.
Funding
The study was supported by a National Taiwan University Hospital − National Taiwan University joint research grant (UN103-051), Ministry of Science and Technology of Taiwan (MOST102-2325-B-002-028, 103-2314-B-002-130-MY3, 103-2314-B-002-131MY3 and 104-2923-B-002-001), Far Eastern Hospital and NTUH joint grant 105-FTN24, and Ministry of Health and Welfare of Taiwan (MOHW106-TDU-B-211-144005).
Availability of data and materials
All data generated or analyzed during this study are available from the corresponding author upon reasonable request.
Authors' contributions
YCH wrote the paper, performed the experiments, and analyzed data. YCC wrote the paper and analyzed the data. WCC and HFT planned, designed and coordinated the research, and wrote the manuscript. CCL, YYK, HAH, YST, CJK, PHC, MHT, and THH provided important materials and help in the study. All authors read and approved the final manuscript.
Ethics approval and consent to participate
The collection of patients' leukemia cells for microarray studies was approved by the Institutional Review Board of the National Taiwan University Hospital. Animals used in this study were housed in a specific pathogen-free animal facility and all procedures were approved by IACUC of National Taiwan University College of Medicine (IACUC approval number: 20120346).
Consent for publication
Not applicable.
Competing interests
The authors declare that they have no competing interests.
Publisher's Note
Springer Nature remains neutral with regard to jurisdictional claims in published maps and institutional affiliations.
Open Access
This article is distributed under the terms of the Creative Commons Attribution 4.0 International License (
http://​creativecommons.​org/​licenses/​by/​4.​0/​
), which permits unrestricted use, distribution, and reproduction in any medium, provided you give appropriate credit to the original author(s) and the source, provide a link to the Creative Commons license, and indicate if changes were made. The Creative Commons Public Domain Dedication waiver (
http://​creativecommons.​org/​publicdomain/​zero/​1.​0/​
) applies to the data made available in this article, unless otherwise stated.