28.04.2016 | Nephrology - Original Paper | Ausgabe 7/2016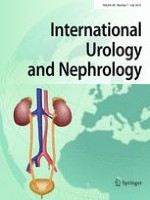 The effect of ambient temperature and humidity on interdialytic weight gains in end-stage renal disease patients on maintenance hemodialysis
Zeitschrift:
Autoren:

Mihály B. Tapolyai, Mária Faludi, Klára Berta, Tibor Szarvas, Zsolt Lengvárszky, Miklos Z. Molnar, Neville R. Dossabhoy, Tibor Fülöp
Wichtige Hinweise
Parts of this study were presented in electronic format during the American Society of Nephrology 2012 Kidney Week Meeting in San Diego, CA; J Am Soc Nephrol 2012; 23:964A.
Abstract
Purpose
Interdialytic weight gain (IDWG) is both a measure of dietary compliance and a well-established predictor of future adverse outcomes in dialysis patients. The impact of environmental conditions on IDWG in end-stage renal disease is little studied to date.
Methods
We retrospectively reviewed IDWG for 100 consenting chronic end-stage renal disease patients undergoing thrice weekly in-center hemodiafiltration under three different climatic conditions in a Central European city: Weekend_1 was humid (93 %) and warm (24 °C); Weekend_2 was dry (38 %) and hot (33 °C); and Weekend_3 was dry (30 %) and warm (24 °C).
Results
The cohort's mean age was 60.9 ± 14.7 years, all were Eastern European, and 56 % were men. Residual urine output measured 100 [25–75 % quartiles: 0, 612] mL/day, single-pool
Kt
/
V
1.4 ± 0.25, and albumin 40.1 ± 3.9 g/L. Mean IDWGs measured as follows: Weekend_1 ("humid-warm"): 2973 ± 1386 mL; Weekend_2 ("dry-hot"): 2685 ± 1368 mL and Weekend_3 ("dry-warm"): 2926 ± 1311 mL. Paired-samples testing for difference showed higher fluid gains on the humid-warm (239 mL; 95 % CI 21–458 mL;
p
= 0.032) and on the dry-warm weekends (222 mL; 95 % CI −8 to 453 mL,
p
= 0.059), when compared to the dry-hot weekend. Under the latter, dry-hot climatic condition, residual urine output lost its significance to impact IDWG during multiple regression analysis.
Conclusion
While excess temperature may impact IDWG to a small degree, air humidity does not; the least weight gains occurred on the dry-hot weekend. However, the effects of both were minimal under continental summer conditions and are unlikely to explain large excesses of individual session-to-session variations.