18.09.2018 | Original Article | Ausgabe 6/2018 Open Access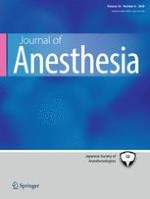 The effect of anesthetic technique on µ-opioid receptor expression and immune cell infiltration in breast cancer
Zeitschrift:
Autoren:

Kirk J. Levins, S. Prendeville, S. Conlon, D. J. Buggy
Abstract
Background
Clinical histological studies demonstrate that the distribution of natural killer (NK) cells, other immune cells and μ-opioid receptors (MOR) within cancer tissue can predict cancer prognosis. No clinical study has evaluated whether anesthetic technique influences immune cell and MOR expression within human breast cancer.
Methods
Excised preoperative biopsies and intraoperative breast cancer specimens from 20 patients randomly chosen from patients previously enrolled in an ongoing, prospective, randomized trial (NCT00418457) investigating the effect of anesthetic technique on long-term breast cancer outcome were immunohistochemically stained and microscopically examined by two independent investigators, masked to randomization, to quantify MOR and immune cell infiltration: CD56, CD57 (NK cells), CD4 (T helper cells), CD8 (cytotoxic T cells) and CD68 (macrophages). Patients had been randomized to receive either a propofol–paravertebral anesthetic with continuing analgesia (PPA,
n
 = 10) or balanced general anesthetic with opioid analgesia (GA,
n
 = 10).
Results
There were no differences between the groups in staining intensity in preoperative biopsy specimens. Expression intensity values (median 25–75%) for MOR in intraoperative resected biopsy were higher in GA 8.5 (3–17) versus PPA 1 (0–10),
p
 = 0.04. The numbers of MOR-positive cells were also higher in GA patients. Expression and absolute numbers of CD56, CD57, CD4 and CD68 were similar in resected tumor in both groups.
Conclusion
General anesthesia with opioid analgesia increased resected tumor MOR expression compared with propofol–paravertebral anesthetic technique, but the anesthetic technique did not significantly influence the expression of immune cell markers.