29.06.2020 | Head and Neck | Ausgabe 2/2021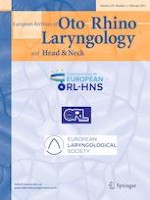 The effect of applying amniotic membrane on post-tonsillectomy pain and bleeding
Zeitschrift:
Autoren:

Mohammad Faramarzi, Mahmood Shishegar, Tayebeh Kazemi, Hamid Tavakolpour Saleh, Sareh Roosta
Wichtige Hinweise
Publisher's Note
Springer Nature remains neutral with regard to jurisdictional claims in published maps and institutional affiliations.
Abstract
Purpose
Pain and hemorrhage are common morbidities after tonsillectomy. Although many studies have focused on post-tonsillectomy pain, inadequate researches are available on wound healing. Hence, there is a definite need for a novel technique to facilitate the healing process and thereby improving the post-tonsillectomy recovery.
Methods
This prospective and randomized study was conducted on 60 adult patients who underwent tonsillectomy. They were divided into two groups of control and amniotic membrane (AM). Human amniotic membrane was applied over the tonsillar bed as a biologic dressing. Post-tonsillectomy pain and bleeding were evaluated. Also, the healing rate was assessed on days 5, 10 and 15 post-operatively.
Results
The pain score in the AM group was lower than that in the control group during the first week after surgery (
P
 < 0.0001). Moreover, the AM group returned faster to their normal diet in comparison with the control group (
P
 < 0.0001). With respect to the healing rate, there were no significant differences between the groups on day 5 (
P
 > 0.05), whereas a significant difference was seen on days 10 and 15 post-surgery (
P
 < 0.0001). There was no significant difference between the two groups in terms of post-operative bleeding (
P
 ≅ 1).
Conclusion
We observed that the use of AM graft as a biologic dressing might be beneficial in reducing post-operative pain and promoting the wound healing process. The results represent a further step toward developing a new technique for coverage of tonsillar fossa with sheeting or wearing grafts.