29.04.2019 | Original Paper | Ausgabe 9/2019 Open Access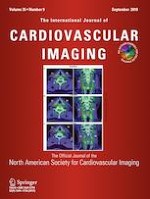 The effect of contrast agents on left ventricular parameters calculated by a threshold-based software module: does it truly matter?
Autoren:

Andrea Szűcs, Anna Réka Kiss, Ferenc Imre Suhai, Attila Tóth, Zsófia Gregor, Márton Horváth, Csilla Czimbalmos, Ibolya Csécs, Zsófia Dohy, Liliána Erzsébet Szabó, Béla Merkely, Hajnalka Vágó
Wichtige Hinweise
Andrea Szűcs and Anna Réka Kiss have contributed equally to this work.
Publisher's Note
Springer Nature remains neutral with regard to jurisdictional claims in published maps and institutional affiliations.
Abstract
The acquisition of short-axis (SA) cine magnetic resonance (MR) images after the administration of contrast agent (CA) is a common, time-saving technique, but a decreased difference in the blood-myocardium contrast on these steady-state free precession (SSFP) cine scans could change the calculated parameters when using threshold-based papillary and trabecular muscle (PTM) quantification. We studied the effect of CA on the parameters calculated from pre- and post-CA SA cine images in noncompaction cardiomyopathy (NC-CMP) and healthy (H) participants using a threshold-based module. A total of 39 individuals (20 patients and 19 healthy) were included prospectively in this study. After the pre-CA SA images were acquired, i.v. gadobutrol (GA) or gadobenate dimeglumine (GD) (GA vs. GD: NC-CMP = 12 vs. 8; C = 12 vs. 7) was administered, and SA scans were repeated after two minutes. A threshold-based PTM software was used for postprocessing. Pre-CA and post-CA SA images were analyzed, and the parameters were compared in both the NC-CMP and H groups. The left ventricular volumes were significantly larger, while the left ventricular myocardial (LVmass) and trabecular mass (LVtrab) values were significantly smaller on the post-CA scans (NC-CMP: pre-CA vs. post-CA, EDV: 74.0 ± 13.6 vs. 81.1 ± 16.3 ml/m2, ESV: 25.3 ± 7.3 vs. 30.1 ± 11.2 ml/m2, LVmass-ED: 82.5 ± 17.5 vs. 75.7 ± 15.9 g/m2, LVtrab-ED: 25.0 ± 6.6 vs. 18.9 ± 4.7 g/m2; Healthy: preCA vs. post-CA, EDV: 69.7 ± 11.9 vs. 72.2  ±  10.7 ml/m2, ESV: 22.6 ± 5.7 vs. 23.9 ± 6.3 ml/m2, LVmass-ED: 71.3 ± 13.6 vs. 68.7 ± 13.9 g/m2, LVtrab-ED: 19.4 ± 2.6 vs. 16.2 ± 3.0 g/m2; p < 0.05). The decreased blood-myocardium contrast difference on post-CA SSFP SA cine images leads to altered cardiac parameters when using threshold-based software for evaluation.