01.12.2017 | Study protocol | Ausgabe 1/2017 Open Access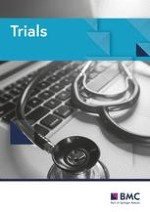 The effect of Danshen extract on lipoprotein-associated phospholipase A2 levels in patients with stable angina pectoris: study protocol for a randomized controlled trial - the DOLPHIN study
Zeitschrift:
Autoren:

A-Di Chen, Chun-Ling Wang, Yang Qin, Liang Tian, Li-Bin Chen, Xiao-Ming Yuan, Lin-Xiu Ma, Yu-Feng Wang, Ji-Rong Sun, Hao-Sen Wang, Neng Dai, DOLPHIN investigator group
Wichtige Hinweise
Electronic supplementary material
The online version of this article (doi:
10.​1186/​s13063-017-2336-2
) contains supplementary material, which is available to authorized users.
Abstract
Background
Lipoprotein-associated phospholipase A2 (Lp-PLA2), a biomarker of oxidation and inflammation, has been associated with increased coronary artery disease risk. To date, very few studies have examined the Chinese herbal drug Danshen or its extract on Lp-PLA2 in patients with stable angina pectoris. In this study, we aim to investigate the effect of Danshen extract on Lp-PLA2 level in patients with stable angina.
Methods/design
This is a randomized, single-blind, placebo-controlled, adaptive clinical trial. A total of 156 patients meeting the eligibility criteria will be randomly assigned to either the Danshen extract (DanshenDuofensuanyan injection and Danshen drop spill) group or the placebo group in a 1:1 ratio. Participants will then undergo treatment with DanshenDuofensuanyan injection or placebo (glucose) during hospitalization, followed by open-label Danshen drop spill (30 pills/day) in Danshen extract group for 60 days after discharge. Because this is an adaptive trial, two interim analyses are prospectively planned. These will be performed after one-third and two-thirds of the patients, respectively, have completed the trial. On the basis of the results of these interim analyses, a data monitoring committee will determine how to modify aspects of the study without undermining the validity and integrity of the trial. The primary outcome measure is the serum level of Lp-PLA2 in the Danshen extract group and the placebo group. The secondary outcomes include the proportion of patients who show a clinically significant change, which is defined as at least a 20-point improvement in angina frequency score on the Seattle Angina Questionnaire and the carotid intima-media thickness, which will be measured using ultrasound. Other secondary efficacy and safety outcomes will also be assessed.
Discussion
This study will provide evidence that Danshen extract is beneficial for stable angina and may establish a possible mechanism of Danshen treatment effects on cardiovascular disease. This study may also validate an objective blood test (LP-PLA2 level) for assessing the effectiveness of Danshen therapy in patients with stable angina pectoris.
Trial registration
ClinicalTrials.gov,
NCT02870764
. Registered on 13 August 2016.