01.12.2018 | Original investigation | Ausgabe 1/2018 Open Access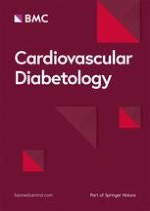 The effect of dapagliflozin treatment on epicardial adipose tissue volume
Zeitschrift:
Autoren:

Takao Sato, Yoshifusa Aizawa, Sho Yuasa, Shohei Kishi, Koichi Fuse, Satoshi Fujita, Yoshio Ikeda, Hitoshi Kitazawa, Minoru Takahashi, Masahito Sato, Masaaki Okabe
Abstract
Background
Glycosuria produced by sodium–glucose co-transporter-2 (SGLT-2) inhibitors is associated with weight loss. SGLT-2 inhibitors reportedly might reduce the occurrence of cardiovascular events. Epicardial adipose tissue (EAT) is a pathogenic fat depot that may be associated with coronary atherosclerosis. The present study evaluated the relationship between an SGLT-2 inhibitor (dapagliflozin) and EAT volume.
Methods
In 40 diabetes mellitus patients with coronary artery disease (10 women and 30 men; mean age of all 40 patients was 67.2 ± 5.4 years), EAT volume was compared prospectively between the dapagliflozin treatment group (DG; n = 20) and conventional treatment group (CTG; n = 20) during a 6-month period. EAT was defined as any pixel that had computed tomography attenuation of − 150 to − 30 Hounsfield units within the pericardial sac. Metabolic parameters, including HbA1c, tumor necrotic factor-α (TNF-α), and plasminogen activator inhibitor-1 (PAI-1) levels, were measured at both baseline and 6-months thereafter.
Results
There were no significant differences at baseline of EAT volume and HbA1c, PAI-1, and TNF-α levels between the two treatment groups. After a 6-month follow-up, the change in HbA1c levels in the DG decreased significantly from 7.2 to 6.8%, while body weight decreased significantly in the DG compared with the CTG (− 2.9 ± 3.4 vs. 0.2 ± 2.4 kg, p = 0.01). At the 6-month follow-up, serum PAI-1 levels tended to decline in the DG. In addition, the change in the TNF-α level in the DG was significantly greater than that in the CTG (− 0.5 ± 0.7 vs. 0.03 ± 0.3 pg/ml, p = 0.03). Furthermore, EAT volume significantly decreased in the DG at the 6-month follow-up compared with the CTG (− 16.4 ± 8.3 vs. 4.7 ± 8.8 cm3, p = 0.01). Not only the changes in the EAT volume and body weight, but also those in the EAT volume and TNF-α level, showed significantly positive correlation.
Conclusion
Treatment with dapagliflozin might improve systemic metabolic parameters and decrease the EAT volume in diabetes mellitus patients, possibly contributing to risk reduction in cardiovascular events.