10.06.2019 | Sleep Breathing Physiology and Disorders • Original Article | Ausgabe 4/2019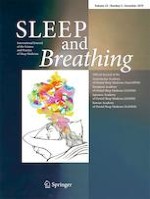 The effect of high evening blood pressure on obstructive sleep apnea–related morning blood pressure elevation: does sex modify this interaction effect?
Zeitschrift:
Autoren:

Su-Hyun Han, Hyo Jae Kim, Sang-Ahm Lee
Wichtige Hinweise
Electronic supplementary material
Publisher's note
Springer Nature remains neutral with regard to jurisdictional claims in published maps and institutional affiliations.
Abstract
Purpose
Obstructive sleep apnea (OSA) can lead to increased morning blood pressure (BP). We hypothesized that high evening BP may aggravate OSA-related morning BP elevation. Additionally, this interactional effect may be modified by sex.
Methods
This retrospective, cross-sectional study included newly diagnosed OSA patients with an apnea-hypopnea index (AHI) ≥ 5 per hour on a full-night polysomnography. An analysis of covariance (ANCOVA) was used to determine whether severe OSA (AHI ≥ 30) was associated with higher morning BP than mild-to-moderate OSA (5 ≤ AHI < 30) and whether there was an interaction between apnea severity and evening BP on morning BP. To identify the sex effects, analyses were performed separately in each sex group.
Results
A total of 1445 patients with an average age of 51.9 years (SD 11.7) (male 77.9% vs. female 22.1%; high evening BP group 22.4% vs. normal evening BP group 59.6%) were included in the study. Based on the ANCOVA, patients with severe OSA had significantly higher morning systolic BP (SBP) (
p
 = 0.003), diastolic BP (DBP) (
p
 < 0.001), and mean BP (MBP) (
p
 < 0.001) than the mild-to-moderate group in male subjects. A significant interaction between apnea severity and evening BP was identified on morning DBP and MBP in male subjects. However, there were no differences in morning BP between severe and mild-to-moderate OSA groups in female subjects.
Conclusions
In male subjects, severe OSA contributed to higher morning BP than mild-to-moderate OSA. OSA-associated morning BP elevation was more prominent in the high evening BP group than in the normal BP group. Such relations were not found in female subjects.