21.02.2018 | Original Article | Ausgabe 4/2018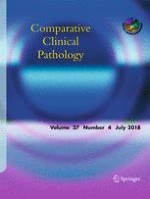 The effect of (
Humulus lupulus

L.) extract on blood factors in male rat
Zeitschrift:
Autoren:

Najmeh Sadeghi, Narges Karbalaei, Ahad Malekzadeh
Wichtige Hinweise
Implication for health policy/practice/research/medical education:
The results of this study support using (
Humulus lupulus
L.) can induce the activation of erythroid colonies in male rat so it can be used with cautious in drinks or foods.
Abstract
Humulus lupulus
L. is a plant from cannabinaceac family which is grown in Iran as well as most regions round the world. The present study aimed at examining effects of hydroalcoholic extract of
Humulus lupulus
L. hops on blood pictures in male rats. Rats were randomly assigned to seven groups of ten, including one control group (no treatment). All of the six groups under the study were exposed 7 weeks to 25% tween 80° solution (1 ml/kg/day), olive oil (1 ml/kg/day), hydroalcoholic extract of
Humulus lupulus
L. (H) at 50, 150, or 450 mg/kg/day, as well as Di Ethyl Stilbestrol (DES) (100 μg/Kg BW). Having performed the experiments, the researcher removed rats' blood serums from the due blood samples and kept them all frozen for usage. After all, results were analyzed by one way-ANOVA statistical method (
p
 < 0.05). Comparing to the control group, it was observed that exposure to
Humulus lupulus
L. can increase MCH, MCV, Hb, and Hct levels, whereas exposure to DES can significantly reduce Hb and MCHC levels. The present investigation demonstrates that contrary to that of the DES, applying high doses of phytoestrogen can stimulate erythroid colony formation.