29.07.2019 | Article | Ausgabe 10/2019 Open Access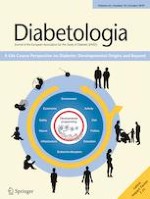 The effect of mid-life insulin resistance and type 2 diabetes on older-age cognitive state: the explanatory role of early-life advantage
Zeitschrift:
Autoren:

Sarah-Naomi James, Andrew Wong, Therese Tillin, Rebecca Hardy, Nishi Chaturvedi, Marcus Richards
Wichtige Hinweise
Electronic supplementary material
Publisher's note
Springer Nature remains neutral with regard to jurisdictional claims in published maps and institutional affiliations.
Abstract
Aims/hypothesis
Type 2 diabetes, hyperglycaemia and insulin resistance are associated with cognitive impairment and dementia, but causal inference studies using Mendelian randomisation do not confirm this. We hypothesised that early-life cognition and social/educational advantage may confound the relationship.
Methods
From the population-based British 1946 birth cohort, a maximum number of 1780 participants had metabolic variables (type 2 diabetes, insulin resistance [HOMA2-IR] and HbA1c) assessed at age 60–64 years, and cognitive state (Addenbrooke's Cognitive Examination III [ACE-III]) and verbal memory assessed at age 69 years. Earlier-life measures included socioeconomic position (SEP), cognition at age 8 years and educational attainment. Polygenic risk scores (PRSs) for type 2 diabetes were calculated. We first used a PRS approach with multivariable linear regression to estimate associations between PRSs and metabolic traits and later-life cognitive state. Second, using a path model approach, we estimated the interrelationships between earlier-life measures, features of mid-life type 2 diabetes and cognitive state at age 69 years. All models were adjusted for sex.
Results
The externally weighted PRS for type 2 diabetes was associated with mid-life metabolic traits (e.g. HOMA2-IR
β
 = 0.08 [95% CI 0.02, 0.16]), but not with ACE-III (
β
 = 0.04 [−0.02, 0.90]) or other cognitive outcomes. While there was an association between HOMA2-IR and subsequent ACE-III (
β
 = −0.09 [−0.15, −0.03]), path modelling showed no direct effect (
β
 = −0.01 [−0.06, 0.03]) after accounting for the association between childhood SEP and education with HOMA2-IR. The same pattern was observed for later-life verbal memory.
Conclusions/interpretation
Associations between type 2 diabetes and mid-life metabolic traits with subsequent cognitive state do not appear causal, and instead they may be explained by SEP in early life, childhood cognition and educational attainment. Therefore, glucose-lowering medication may be unlikely to combat cognitive impairment in older age.