01.12.2017 | Research article | Ausgabe 1/2017 Open Access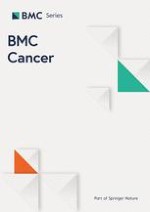 The effect of Nullomer-derived peptides 9R, 9S1R and 124R on the NCI-60 panel and normal cell lines
Zeitschrift:
Autoren:

Abdelkrim Alileche, Greg Hampikian
Wichtige Hinweise
Electronic supplementary material
The online version of this article (doi:
10.​1186/​s12885-017-3514-z
) contains supplementary material, which is available to authorized users.
Abbreviations
CCLE
Cancer cell line encyclopedia
Background
Nullomers are the shortest string of monomers absent from a species or species group. In 2007 Hampikian and Andersen [
1
] published a list of Nullomers that were absent from all publicly available databases (called Primes); for peptides there were 198 (5-amino acid strings) absent from all known proteins. Nullomer DNA sequences have been used to "watermark" DNA samples and prevent forensic contamination [
2
], and Nullomer-derived peptides have been shown to be effective against prostate and breast cancer cell lines [
3
]. In this study, we examined the effects of 3 Nullomer-derived peptides on the NCI-60 panel of cancer cells, and 4 normal cell lines.
The current treatment of cancer cannot address many aspects of human tumors driven by their cellular heterogeneity. For example, some cells in a tumor may be designated drug resistant [
4
] cancer cells, but other types of cells, such as quiescent tumor cells and cancer stem cells [
5
], are also out of reach of many of the current drug protocols. Due to these challenges, a new treatment paradigm is emerging based on the targeting cancer cell metabolism, including aerobic glycolysis (Warburg effect). We report here that two Nullomer-derived peptides (9R, 9S1R) have a broad spectrum of activity against the NCI-60 panel, and lead to dramatic cellular ATP depletion.
Methods
Cell lines
The NCI-60 panel of cancer cells was purchased from Development Therapeutics of the NCI. Cells were thawed in a water bath at 37 °C, and collected by centrifugation at room temperature. For maintenance, the cell were grown in RPMI 1640 supplemented with 10% Hyclone fetal bovine serum (FBS), and 1× penicillin streptomycin (100× solution, Invitrogen) at 37 °C and 5% CO 2. Passaging of cells was done at 80% confluence after a PBS wash, cells were treated with Trypsin-EDTA 0.25% (Invitrogen).
Normal cell lines were purchased from the American Type Culture Collection (ATCC, Manassas, VA). Human endothelial cell line HUVEC (ATCC CRL-1730) was grown in the ATCC formulated F-12 K medium with 0.1 mg/ml Heparin, 0.05 mg/ml endothelial cell growth supplement and 10% FBS. Human skin fibroblast BJ (ATCC CRL-2522) was grown in the ATCC formulated Eagle's Minimum Essential Medium supplemented with 10% FBS. Human prostate epithelial cell line RWPE-1 (ATCC CRL-11609) was grown in the Keratinocyte Serum Free Medium (K-SFM, GIBCO) supplemented with 0.05 mg/ml bovine pituitary extract (BPE) and 5 ng/ml human recombinant epidermal growth factor (EGF). Human colon epithelial cell line FHC (ATCC CRL-1831) was grown in the ATCC formulated DMEM-F12 supplemented with 10 mM HEPES (final concentration 25 mM), 10 ng/ml cholera toxin, 0.005 mg/ml insulin, 0.005 mg/ml transferrin, 100 ng/ml hydrocortisone and 10% FBS. Only early cell passages were used for all experiments. No human subjects (including human material or human data) has been used in the research reported in this manuscript. All cancer ell lines were obtained from the NCI depository, and all normal cells from the ATCC.
Reagents
Peptides 9R, 9S1R and 124R were made by Pierce Biotechnology (Rockford, IL). HPLC purified peptides (purity >98%) were delivered in 0.5 mg/tube (lyophilized) and stored at −20 °C. Peptides were solubilized in 1 M Trehalose to produce 50 mM stock solutions. Only freshly prepared solutions were used to treat cells. Trehalose final concentration in all reactions was 1 mM (a dose without any effect on the growth of cancer and normal cells). Sodium Azide (Sigma Aldrich) was solubilized in water at 100 mM.
Screening the effect of peptides 9R, 9S1R and 124R on the NCI-60 panel and normal cells
Three thousand–Five thousand normal or cancer cells/well were seeded in 96-well plates. After 24 h incubation, peptides 9R, 9S1R and 124R were added to the wells, with untreated cells as a control. After 48 h exposure to 5 μM, 25 μM, or 50 μM peptides, cell viability was quantified by the addition of 10 μl of cell counting kit (CCK-8, Dojindo Japan) to each well, incubated for 4 h at 37 °C in a 5% CO 2 incubator. After the 4 h incubation, plates were monitored by a plate reader (SynergyMx from BioTek, Winooski, VT) at an absorbance of 450 nm. Plate readings were exported to Microsoft Excel and GraphPadPrism software. All the wells were analyzed in triplicates. The statistical analysis was done with GraphPadPrism*. The survival index (SI) is the CCK-8 reading ratio of peptide-treated to untreated cells (minus the blank values), multiplied by 100 to yield an index of the percent surviving. A dose response using several concentrations of the peptides (5 μM, 25 μM and 50 μM) was used for all cancer and normal cell lines. The SI was used for screening in this study at the 50 μM concentration of each peptide.
Measurement of cellular and cellular-supernatant ATP content
Cancer cell lines (one cell line for each organ represented in the NCI-60 panel) and normal cell lines (3000-5000/well) were seeded in 96 well microplates (white plates from Nunc to block luminescence bleeding between the wells), and allowed to attach for 24 h. Then cells were incubated for 3 h with peptides (50μΜ of 9R, 9S1R and 124R), or 100 mM sodium azide as a control. After 3 h, 10 μl of a single reagent from Cell Titer Glow™ (Promega) was added to cells. For the cellular supernatant ATP content, the supernatant of each well was transferred to a new microplate and 10 μl of a single reagent from Cell Titer Glow™ (Promega) was added to each supernatant. Complete reagent mixing in 96 wells plates required gentle orbital shaking for 2–10 min. The plate reading was taken by a SynergyMx plate reader. Plate readings were exported to Microsoft Excel and Graph-PadPrism software. All the wells were analyzed in triplicates. The statistical analysis was done with the GraphPadPRISM*.
Results
Discussion
Conclusion
Current cancer therapy suffers from many limitations including drug resistance and toxicity. We have produced novel anti–cancer drugs based on the shortest peptide sequences absent form natural proteins, Nullomers. These pentamer (5-amino acid) sequences combined with five R residues (for cell penetration) are effective against 58 of the 60 cancer cell types in the NCI-60 cancer panel. While the mechanism (s) of their effects require further research, the peptides clearly affect cellular ATP production, have differential effects on various cancer cell types, and are more toxic to many cancers than most normal cell types tested.
No current anti-cancer drug, even those targeting DNA replication or the mitotic apparatus, is effective against cancers derived from all nine organs represented in the NCI-60 panel. However, Nullomer-derived peptides 9S1R and 9R are active against 95 and 81.6%, respectively, of the NCI-60 cancer cell lines. Both peptides are active against dividing and quiescent, drug resistant and drug sensitive, hormone sensitive and hormone resistant, differentiated and non-differentiated, metastatic and non-metastatic cancer cell lines. In addition, both peptides are active against cancer stem cell lines. Therefore, peptides 9S1R and 9R address the problem of
tumor heterogeneity
--a fundamental challenge in cancer treatment. We propose the hypotheses that this broad activity spectrum is due to the fact that both peptides target "
cells of origin of cancer"
[
14
], these are cells carrying common marker (s) of cancers derived from many organs. Both peptides, especially peptide 9S1R, kill cancer cells by rapidly depleting ATP content. Future studies will evaluate the Nullomer-derived peptides' effects on invasion ability and metastasis in animal models. Studies that combine the Nullomer-derived peptides with other drugs will examine if depriving ATP-dependent pumps of power, will decrease MDR caused by the efflux of anti-cancer drugs.
Acknowledgments
None.
Funding
This study was financially supported by an Elsa U. Pardee Foundation Grant 006G106695. The funding body was not involved in the design of the study and collection, analysis, and interpretation of data and in writing the manuscript. The Biology Department of Boise State University will pay the costs associated with publication.
Availability of data and materials
The dataset and materials presented in this investigation is available by request from the corresponding author.
Ethics approval and consent to participate
NA
Consent for publication
Not Applicable.
Competing interests
The authors declare that they have no competing interests.
Publisher's Note
Springer Nature remains neutral with regard to jurisdictional claims in published maps and institutional affiliations.
Open Access
This article is distributed under the terms of the Creative Commons Attribution 4.0 International License (
http://​creativecommons.​org/​licenses/​by/​4.​0/​
), which permits unrestricted use, distribution, and reproduction in any medium, provided you give appropriate credit to the original author(s) and the source, provide a link to the Creative Commons license, and indicate if changes were made. The Creative Commons Public Domain Dedication waiver (
http://​creativecommons.​org/​publicdomain/​zero/​1.​0/​
) applies to the data made available in this article, unless otherwise stated.