01.03.2012 | Original Article | Ausgabe 3/2012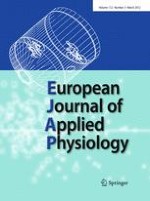 The effect of post-exercise hydrotherapy on subsequent exercise performance and heart rate variability
Zeitschrift:
Autoren:

Jamie Stanley, Martin Buchheit, Jonathan M. Peake
Wichtige Hinweise
Communicated by Narihiko Kondo.
Abstract
We investigated the effect of hydrotherapy on time-trial performance and cardiac parasympathetic reactivation during recovery from intense training. On three occasions, 18 well-trained cyclists completed 60 min high-intensity cycling, followed 20 min later by one of three 10-min recovery interventions: passive rest (PAS), cold water immersion (CWI), or contrast water immersion (CWT). The cyclists then rested quietly for 160 min with R–R intervals and perceptions of recovery recorded every 30 min. Cardiac parasympathetic activity was evaluated using the natural logarithm of the square root of mean squared differences of successive R–R intervals (ln rMSSD). Finally, the cyclists completed a work-based cycling time trial. Effects were examined using magnitude-based inferences. Differences in time-trial performance between the three trials were trivial. Compared with PAS, general fatigue was very likely lower for CWI (difference [90% confidence limits; −12% (−18; −5)]) and CWT [−11% (−19; −2)]. Leg soreness was almost certainly lower following CWI [−22% (−30; −14)] and CWT [−27% (−37; −15)]. The change in mean ln rMSSD following the recovery interventions (ln rMSSD
Post-interv
) was almost certainly higher following CWI [16.0% (10.4; 23.2)] and very likely higher following CWT [12.5% (5.5; 20.0)] compared with PAS, and possibly higher following CWI [3.7% (−0.9; 8.4)] compared with CWT. The correlations between performance, ln rMSSD
Post-interv
and perceptions of recovery were unclear. A moderate correlation was observed between ln rMSSD
Post-interv
and leg soreness [
r
= −0.50 (−0.66; −0.29)]. Although the effects of CWI and CWT on performance were trivial, the beneficial effects on perceptions of recovery support the use of these recovery strategies.