26.10.2016 | Original Article | Ausgabe 1/2017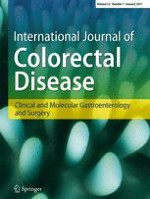 The effect of pre-operative optimization on post-operative outcome in Crohn's disease resections
Zeitschrift:
Autoren:

Alaa El-Hussuna, Igors Iesalnieks, Nir Horesh, Sabah Hadi, Yael Dreznik, Oded Zmora
Wichtige Hinweise
Alaa El-Hussuna, Igors Iesalnieks, Nir Horesh, Sabah Hadi, Yael Dreznik and Oded Zmora contributed to the manuscript.
What does this paper add to the existing literature?
This paper identifies the variability of pre-operative optimization across different countries. It is hypothesis generating and aims to be a building block for future research in the subject.
Abstract
Background
The timing of surgical intervention in Crohn's disease (CD) may depend on pre-operative optimization (PO) which includes different interventions to decrease the risk for unfavourable post-operative outcome. The objective of this study was to investigate the effect of multi-model PO on the post-operative outcome in CD.
Method
This is a multicentre retrospective cohort study. The primary outcome was 30-day post-operative complications. Secondary outcomes were intra-abdominal septic complications, surgical site infection (SSI), re-operation, length of post-operative stay in a hospital and re-admission. PO included nutritional support, discontinuation of medications, pre-operative antibiotic course and thrombosis prophylaxis.
Results
Two hundred and thirty-seven CD elective bowel resections were included. Mean age was 39.9 years SD 14.25, 144 (60.8 %) were female and 129 (54.4 %) had one or more types of medical treatment pre-operatively. Seventy-seven patients (32.5 %) optimized by at least nutritional support or change in pre-operative medications. PO patients were more likely to have penetrating disease phenotype (
p
= 0.034), lower albumin (
p
= 0.015) and haemoglobin (
p
= 0.021) compared to the non-optimized. Multivariate analyses showed that treatment with anti-TNF alpha agents OR 2.058 CI [1.043–4.4.064] and low haemoglobin OR 0.741 CI [0.572–0.0.961] increased the risk of overall post-operative complications. Co-morbidity increased the risk of SSI OR 2.567 CI [1.182–5.576] while low haemoglobin was a risk factor for re-admission OR 0.613 CI [0.405–0.926]. Low pre-operative albumin correlated with longer stay in hospital.
Conclusions
PO did not change post-operative outcome most likely due to selection bias. Anti-TNF alpha agents, low haemoglobin, low albumin and co-morbidity were associated with unfavourable outcome.