17.08.2017 | Original Research | Ausgabe 4/2017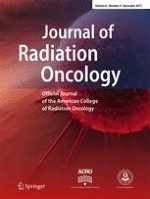 The effect of resveratrol administration in irradiated mice on the induction of micronuclei in bone marrow
Zeitschrift:
Autoren:

Farideh Koohian, Ahmad Shanei, Daryoush Shahbazi-Gahrouei, Seyed Hossein Hejazi, Amirhossein Ahmadi, Mohammadreza Sharifi
Abstract
Objective
Resveratrol (RSV) a medicinal polyphenol is synthesized by many plants in response to injury, infection, stress, and ultraviolet (UV) irradiation, present in the grapes, nuts, fruits, and wine.
Methods
In this study, we have investigated the antioxidant ability of RSV and its activity in the protection of radiation-induced DNA injury in X-radiated mice. The antioxidant strength of RSV was evaluated by the study of the 1,1-diphenyl-2-picrylhydrazyl (DPPH) radical scavenging properties.
Results
Our results demonstrated that RSV shows strong antioxidant activity by this assay. When mice were exposed to 2 Gy X-radiation, there was an increase in the total MnPCE value and a decrease in the ratio [PCEs/ (PCEs + NCEs)] of bone marrow cells. RSV (50 mg/kg) pretreatment remarkably decreased the total MnPCE value and increased the ratio [PCEs/ (PCEs + NCEs)] in irradiated mice.
Conclusions
These results propose that RSV protects X-radiation-induced DNA damage in mice bone marrow cells, which may be related to its antioxidant activity.