01.12.2014 | Research article | Ausgabe 1/2014 Open Access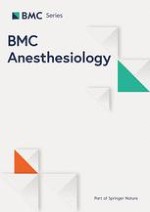 The effect of succinylcholine on malignant hyperthermia events in susceptible swine
Zeitschrift:
Autoren:

Frank Schuster, Stephan Johannsen, Susanne Moegele, Thomas Metterlein, Norbert Roewer, Martin Anetseder
Wichtige Hinweise
Competing interests
All authors declare that they have no competing interests.
Authors' contributions
FS conceived the study, accompanied the data acquisition, collected the data and drafted the manuscript. SJ analyzed the data and helped writing the manuscript. SM analyzed the data. TM collected the data. NR participated in the design of the study. MA participated in the design of the study, collected and analyzed the data. All authors read and approved the final manuscript.
Abstract
Background
While the impact of volatile anaesthetics to induce malignant hyperthermia (MH) is abundantly clear, the role of succinylcholine still remains controversial. To evaluate the influence of succinylcholine on porcine MH events, the authors investigated the hemodynamic and metabolic responses in MH susceptible (MHS) and non-susceptible (MHN) swine following either succinylcholine or halothane application alone or a combination of both substances.
Methods
With approval of the local animal care committee 27 MHS and 30 MHN pigs were anaesthetized and mechanically ventilated. Fiberoptic probes for continuous PCO2 measurement were inserted into the femoral vein and the triceps muscle. Group A received succinylcholine 4 mg/kg, group B incremental doses of halothane (0.5, 1.0 vol%) and group C succinylcholine and halothane simultaneously. Vital signs were recorded continuously.
Results
Prior to drug application measured values did not differ between MHS and MHN. While MHN pigs did not show relevant alterations, succinylcholine, halothane and the combination of both lead to significant hemodynamic and metabolic changes in MHS swine.
Conclusions
Hemodynamic and metabolic alterations following succinylcholine were similar to halothane in MHS pigs. The combination of both pharmacological agents potentiated the observed effects. According to these results succinylcholine acted as an independent and supportive factor during onset of an MH episode.