01.12.2017 | Primary Research | Ausgabe 1/2017 Open Access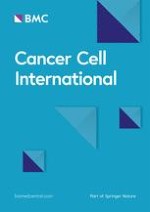 The effect of tetrandrine combined with cisplatin on proliferation and apoptosis of A549/DDP cells and A549 cells
Zeitschrift:
Autoren:

Ling-Yun Ye, Song Hu, Hua-E Xu, Rong-Rong Xu, Hui Kong, Xiao-Ning Zeng, Wei-Ping Xie, Hong Wang
Wichtige Hinweise
Ling-Yun Ye, Song Hu and Hua-E Xu contributed equally to this work
Abstract
Background
Non-small cell lung cancer comprises the majority of lung cancer cases and is insensitive to chemotherapy. Most patients develop drug resistance. Recently, tetrandrine (TET), a bis-benzylisoquinoline alkaloid, was identified as a novel anti-cancer agent. However, the effect of tetrandrine combined with cisplatin on lung cancer has not yet been studied. We aimed to identify a possible synergistic effect between tetrandrine and cisplatin, besides, to investigate the effects of TET in combination with DDP on proliferation and apoptosis in cisplatin-resistant and cisplatin-sensitive A549 cell lines, and to study the underlying mechanism.
Methods
Cell viability was confirmed with CCK8 assays, and the IC50 values for each treatment group were calculated. The synergistic interaction of these drugs was evaluated using an isobolographic analysis. Proliferation was assessed by EDU staining. Hoechst staining and flow cytometry were used to assess apoptosis. Apoptosis- and autophagy-associated proteins were analyzed by western blot. Transmission electron microscopy was used to detect autophagy, RFP-GFP-LC3 lentivirus was used to perform autophagic flux assay.
Results
Tetrandrine and cisplatin exerted synergistic cytotoxic effects on both cisplatin-resistant and cisplatin-sensitive A549 cell lines. The combination of tetrandrine and cisplatin induced apoptosis and inhibited proliferation in a synergistic manner. The formation of autophagosomes was evident by transmission electron microscopy. The autophagic flux of combination treatment was increased.
Conclusions
Tetrandrine synergized with cisplatin to reduce the viability of cisplatin-resistant and cisplatin-sensitive A549 cells, tetrandrine could reverse the resistance of A549 cells to cisplatin. Tetrandrine combined with cisplatin could induce autophagy. Therefore, tetrandrine is a potent autophagy agonist and may be a promising drug for the treatment of non-small cell lung cancer.