01.12.2017 | Research article | Ausgabe 1/2017 Open Access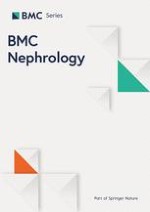 The effect of whole-body cooling on renal function in post-cardiac arrest patients
Zeitschrift:
Autoren:

Silvia De Rosa, Massimo De Cal, Michael Joannidis, Gianluca Villa, Jose Luis Salas Pacheco, Grazia Maria Virzì, Sara Samoni, Fiorella D'ippoliti, Stefano Marcante, Federico Visconti, Antonella Lampariello, Marina Zannato, Silvio Marafon, Raffaele Bonato, Claudio Ronco
Abstract
Background
To evaluate the incidence of Acute Kidney Injury (AKI) during therapeutic hypothermia (TH) and rewarming in comatose patients resuscitated from Cardiac Arrest (CA).
Methods
We have performed a pilot study of consecutive comatose patients resuscitated from CA and admitted to our Intensive Care Unit (ICU) from January 2013 to March 2015. The surface cooling devices used were: 1) Arctic Sun® 5000; 2) Blanketrol® III. Data obtained at baseline and during TH included: temperature trend and rate, serum creatinine, interleukin 1-beta, interleukin 6 (IL-6), urinary Interleukin-18 (uIL-18), diuretic use, urine output, fluid balance (FB). AKI was defined according to Kidney Diseases Improving Global Outcomes (KDIGO) criteria.
Results
Thirty-six patients were treated with TH out of 46 ICU admissions (78%). According to KDIGO classification, 21 (58%) had no evidence of AKI while 15 (41.7%) presented AKI during TH. In particular, the incidence of AKI was 2.8% at 24 h, 33.33% at 48 h and 30.6% at 72 h from the onset of cooling. Slower rewarming (above 600 min) was associated with with a non-significant lower incidence of AKI and with a non-significant lower levels of IL-6 and IL-18u. Only two patients required renal replacement therapy during TH (7.6%). Median cumulative FB was 2441 [437–4043] ml for all patients; 3140 [1421–4347] and 1332 [−131–3772] specifically for AKI and not-AKI patients.
Conclusions
The hypothermia treatment, if not well performed, could be a double-edged sword for kidneys: whereas hypothermia may confer protection by reducing metabolism and oxygen consumption, rapid rewarming could nullify benefits leading to a worsening of kidney function and AKI. Additional clinical studies are needed to determine the optimal rewarming rate and strategy.