01.12.2014 | Research article | Ausgabe 1/2014 Open Access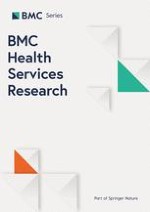 The effects of China's New Cooperative Medical Scheme on accessibility and affordability of healthcare services: an empirical research in Liaoning Province
Zeitschrift:
Autoren:

Xin Wang, Xin He, Ang Zheng, Xianpu Ji
Wichtige Hinweise
Electronic supplementary material
The online version of this article (doi:
10.​1186/​1472-6963-14-388
) contains supplementary material, which is available to authorized users.
Competing interests
The authors declare that they have no competing interests.
Authors' contributions
XW participated in the project design, co-ordination and conduct of the study and manuscript drafting. XH participated in conduct of the study and the translation and revision of drafts of the manuscript. AZ participated in conduct of the study and data analysis. XPJ participated in data collection and conduct of the study. All authors read and approved the final manuscript.
Background
We interviewed NCMS policy makers in 19 counties in Liaoning province, as well as the executors of related village, township and county hospitals. In addition, we extensively collected opinions from the primary-level staff on their views of the present rural health policies. Later we randomly selected 3 counties with high, middle and low level of economic development, respectively. We conducted a survey with the rural residents in these counties on their opinions of the NCMS, expecting to find the factors that influence the healthcare service quality and the improvements of the NCMS.
Methods
Study sample
There are 19 counties in Liaoning province, and we subclassified them into 3 groups according to the average income. Dawa County, Changtu County and Xinbin County were selected through stratified sampling. From each of the selected counties, seven villages were randomly chosen. In each county, 30 households were randomly selected. We conducted a door-to-door survey with the target households. The sample size was calculated as 2 ‰ of the total number of households in each area. The survey was conducted with trained interviewers in 3 counties, 21 villages and 630 households. We got 630 questionnaires in total, and 602 were qualified. Informed consent was obtained from all participants following a protocol approved by Ethics Committee of China Medical University.
There were two parts in our study: interview and survey. One-on-one interview was conducted with the health officials with administrative responsibilities at city, county, township and village levels in order to get a better understanding of the local NCMS policies. A door-to-door survey was undertaken with a locally contextualized questionnaire, containing customized question sets designed to gauge population characteristics, respondents' healthcare preferences, satisfaction levels with providers, and opinions on designated healthcare institutions in general. All the interviewers were graduate students who have received detailed in-person training.
Data analysis
Data extraction was checked through parallel double entry with Epidata 3.0. Demographic characteristics of respondents including age, gender, family size, education background, job, annual income, medical expenses, etc. were described (Table
1
). Analyses were performed with SPSS 13.0 and Excel.
Table 1
Basic information of surveyed individuals/families
Variables

N

Percentages

SEX

Male

218

36.2

Female

384

63.8

AGE(YEARS)

≤40

110

18.3

40-49

186

30.9

50-59

190

31.6

≥60

116

19.3

FAMILY SIZE (NUMBER OF FAMILY MEMBER)

1

37

6.1

2

124

20.6

3

195

32.4

4

131

21.8

≥5

115

19.1

EDUCATION BACKGROUND

No schooling

68

11.3

Primary school

113

18.8

Junior high school

300

49.8

Senior high school

110

18.3

College/beyond college

11

1.8

JOB

Professionals

48

8.0

Farmers

285

47.3

Unemployed or contract workers

217

36.0

Workers or businessmen

52

8.6

ANNUAL INCOME

≤3000

42

7.0

3000-8000

125

20.8

8000-12000

140

23.3

12000-20000

158

26.2

≥20000

137

22.8

MEDICAL EXPENSES

<500

122

20.3

500-5000

358

59.5

5000-10000

83

13.8

>10000

39

6.5

MEDICAL EXPENSES/ANNUAL INCOME

≤20%

360

59.8

20%-40%

111

18.4

≥40%

131

21.8
Results
Discussion
Principal findings
Our study provides new evidence on the effect of NCMS on the beneficiaries and their current state of satisfaction. In general, the NCMS policies have enjoyed high satisfaction rate, but many participants believed that there would be a long way in achieving its goal of preventing catastrophic poverty. The high healthcare service fees and inadequate healthcare services are still of great concern. The NCMS reimbursement package could not alleviate the financial pressure due to the high check-up fees and drug prices at the designated hospitals. Even though the village clinics were considered to provide the best healthcare services, people preferred higher level of designated hospitals when they got severe diseases, namely the county or even city hospitals. The long waiting hours and difficult registration process in these hospitals had been complaint constantly.
The effect of the NCMS on healthcare service accessibility
According to our results, the majority of the NCMS enrollees would come to the designated hospitals for medical care when they get sick, and a considerable number of participants believe that seeking medical care has been more convenient. It is consistent with several previous studies [
19
,
20
], reflecting the problem of inadequate healthcare services has been eased to certain extend. As found in our study, over 90% of the participants lived nearby the designated hospitals, indicating that the geographic accessibility has been improved much in the rural area.
Along with the great improvements, nearly one-third of the rural residents believed that the issue of inadequate healthcare services required further improvement, especially in county hospitals. It could be explained by the imbalanced distribution of healthcare resources. In terms of the city hospitals, where there are more advanced equipment and highly skilled providers, the large urban population drives up the overall demand for healthcare services. In that case, the limited city healthcare services may not meet the needs of the rural area. In addition, the weakened social role of township and village clinics will cause a lack of cost-effectiveness and the corresponding social-effectiveness [
21
], leading to low utilization of the available healthcare resources. Our finding that the rural residents preferred city or county hospitals when they got severe diseases, while they preferred the village clinics or buying drugs themselves when they got minor diseases, reflected the prominent inability of township and village hospitals.
The effect of the NCMS on healthcare service affordability
A large proportion of rural residents believed that the healthcare services were expensive, which reflected the imbalance between healthcare costs and people's affordability [
22
]. The longitudinal study from 2003 to 2005 by Chinese Ministry of Health and World Bank indicated that inpatient cost per case increased by 30% after people were insured [
23
]. In our study, nearly one-fifth of the respondents held that the high healthcare fees led to the ineffectiveness of the NCMS. The high healthcare fees were due to the high drug prices and high check-up expenses. Nearly 60% of the rural residents believed that the drug prices in designated hospitals were higher than the market prices, and the higher level of hospital, the higher the drug prices. In spite of the increasing reimbursement rate, the policy reimbursement rate for inpatient care is much higher than that in the outpatient care. Due to the higher price for inpatient care as well as the existence of reimbursement deductible, the poorer enrollees, especially these with chronic diseases, might not be well protected by the NCMS to receive proper medical care in time due to financial reasons. The poor were more likely to seek informal and less qualified providers, or resort to self-treatment when they were ill [
24
]. Other studies have also proved that unmet healthcare needs and service avoidance were more prevalent in the lowest socio-economic status households than in the highest socio-economic status households [
25
,
26
]. Our finding provided a hard evidence for the pro-rich inequality for inpatient service utilization proposed by Yuan et al [
27
].
The NCMS has features like great publicity, quick financing and stable drug prices [
28
]. However, according to our study, the rural residents had a low level of satisfaction with designated hospitals. Only 20% of the rural residents felt satisfied with their designated hospitals, while nearly half of them believed that designated hospitals had certain irrational medical treatments like over-prescribing drugs. As the NCMS encourages people to seek healthcare services, providers may over-prescribe drugs and high-tech cares due to its fee-for-service payment system and the limited financing for health facilities from the government [
29
]. Furthermore, 40% of the participants had experienced irrational medical treatments like prescribing expensive drugs or repeated inspections [
30
]. According to Jiang et al., the overuse of injections, particularly the excessive unrestricted use of multiple injections, has become a big problem at the rural healthcare facilities in Sichuan [
31
]. The abuse of injections may partially be due to the misbelief that it would be more convenient and efficient than oral medications, but it is also linked with more revenues generated for healthcare facilities and medical stuff [
32
]. In other words, without proper public education or medical treatment restriction, the NCMS would play a limited role in reducing healthcare expenses.
Policy implications
Redistribute healthcare resources
Rural China has 8.13 hospitals per million people, and 21.35 doctors and 1.75 beds per 1,000 people [
33
]. As was indicated in our study, the designated hospitals of the NCMS presented different healthcare service qualities and patients were prone to seek medical help form higher level of healthcare institutions like county hospitals instead of village clinics or township hospitals. Despite the government's effort to restrain costs by encouraging patients to use township health centers, making the copayment amounts lower and patient reimbursement rates higher than at the county hospitals, the township hospitals failed to play its role of delivering rural health care and acting as a referral to the county hospitals. And the effort to promote the reasonable shunt of patients with a distinguishing subsidy turned out to be one of the causes of hard to receive healthcare service for the rural residents [
34
,
35
].In this case, we suggest redistributing healthcare resources according to the coverage radius, population density as well as the general condition of every healthcare institution.
Put more emphasis on medical equipment development
As high check-up fees play a dominant role in expansive healthcare fees, developing domestic medical equipment with low costs and properly allocating them to the rural areas would ease the problem. Furthermore, a standardized and networked electronic diagnosis and medical record system should be applied in different hospitals, which will avoid repeated tests, promote medical resource sharing and facilitate remote diagnosis. It could also benefit the patients who need transferring to higher levels of hospitals. The networked information system would also enable the administrative staff to trace the detailed information on healthcare service conditions in the rural areas.
Establish a new talent flow mode
As indicated from our study, the township and villages hospitals were considered to provide better healthcare services but with lower clinical skills and more inadequate medical knowledge, which was one of the factors leading to irrational drug use. A study by Wang et al. showed that village doctors urgently needed more training on rational drug use [
36
], however, improving the skills of healthcare personnel was more critical to making full use of the NCMS [
37
]. To improve the medical skills of the working stuff at these hospitals, a long-lasting new talent flow mode to township and village clinics should be promoted. We suggest establishing a dynamic flow system consisting of medical professionals from city hospitals to county hospitals and from county hospitals to township and village clinics. The excellent medical stuff of every level of health institutions shall take turns working in healthcare institutions of other levels for a fixed period of time. To ensure the initiative of this policy, their performance shall be taken as an important criterion for professional qualification assessment, end-year bonus evaluation and title assessment. Simultaneously, the government shall provide more remedies to attract more medical staff of superior hospitals to rural medical institutions. With better skills, the village and township hospitals could attract more patients for their first visits and enhance their confidence in the hospitals. In addition, the village and township hospitals could exploit their advantages of low price and good service to the full to attract more patients.
Limitations
The study has several limitations. Firstly, due to the limited sample size, certain bias could exist in some of our findings. And as the selection of the respondents focused on certain communities in the 21 villages, and the results may not be generalizable to the entire country, and could not fully represent the rural population. Secondly, some data in out study, like medical expanses, were collected on the basis of personal recall and could be prone to measurement errors. In addition, as we only focused our study in Liaoning province, and the NCMS policies could be somehow different from area to area, some of our findings might be limited to cities sharing similar policies.
Conclusion
Our study suggests that the NCMS improved the situation of hard to receive healthcare services but did not reduce the high healthcare fees. The long waiting time during healthcare services remained to be the major problem in inadequate healthcare services. Furthermore, participants were unsatisfied with the NCMS designated hospitals, with the main reason of high expanses. The data in our study suggest that the designated hospitals of various levels presented different problems in aspects of service attitude, equipment, medical skills, service price, etc. The NCMS is clearly of great importance to reduce inaccessibility and unaffordability of healthcare services with the ultimate goal to reach universal health coverage. To achieve this goal, more studies shall be carried out in different areas to explore a more feasible policy that could be generalized on a broader scale and to get more hints for further policy making.
Endnote
aTwo-week prevalence rate = The number of patients in the first two weeks / The number of surveyed people 100%; the fourth National Health Services Survey showed the two-week prevalence rate in 2008 was 18.9%.
Acknowledgements
This study was supported by Science and Techonology Project of Liaoning Province, 2012,"Medical resource distribution equity studies" (#2012225101).
This article is published under license to BioMed Central Ltd. This is an Open Access article distributed under the terms of the Creative Commons Attribution License (
http://​creativecommons.​org/​licenses/​by/​2.​0
), which permits unrestricted use, distribution, and reproduction in any medium, provided the original work is properly credited. The Creative Commons Public Domain Dedication waiver (
http://​creativecommons.​org/​publicdomain/​zero/​1.​0/​
) applies to the data made available in this article, unless otherwise stated.
Competing interests
The authors declare that they have no competing interests.
Authors' contributions
XW participated in the project design, co-ordination and conduct of the study and manuscript drafting. XH participated in conduct of the study and the translation and revision of drafts of the manuscript. AZ participated in conduct of the study and data analysis. XPJ participated in data collection and conduct of the study. All authors read and approved the final manuscript.