01.11.2010 | Technical Innovations | Ausgabe 11/2010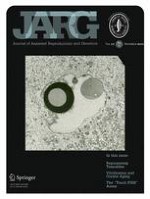 The effects of different laser pulse lengths on the embryo biopsy procedure and embryo development to the blastocyst stage
Zeitschrift:
Autoren:

Tyl H. Taylor, Janice W. Gilchrist, Susan V. Hallowell, Kelly K. Hanshew, John J. Orris, Michael J. Glassner, J. David Wininger
Wichtige Hinweise
Capsule
Different laser pulse lengths used during the embryo biopsy procedure do not influence the procedure or embryo development to the blastocyst stage
Abstract
Purpose
A laser is commonly used to remove a blastomere from an embryo for genetic testing. The laser uses intense heat which could possibly disrupt embryo development. It is the goal of this study to test the effects of different laser pulse lengths (and consequently heat) on the embryo biopsy procedure and embryo development.
Methods
Each embryo biopsy was performed randomly utilizing laser pulse lengths of 0.604mS (group I), 0.708mS (group II), and 1.010mS (group III).
Results
For groups I, II, and III, 83, 86, and 71 embryos were biopsied, respectively. There was no difference in day 5 embryo quality or lysed blastomeres between groups. Average number of blastomeres biopsied between group I (1.0 ± 0.0), II (1.0 ± 0.2), and III (1.1 ± 0.2) was significant (0.0001).
Conclusion
Our data demonstrates that laser pulse length does not influence the embryo biopsy procedure or embryo development.