24.08.2017 | Original Contributions | Ausgabe 3/2018 Open Access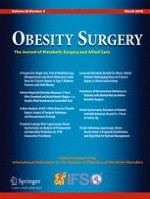 The Effects of Duodenojejunal Omega Switch in Combination with High-Fat Diet and Control Diet on Incretins, Body Weight, and Glucose Tolerance in Sprague-Dawley Rats
Zeitschrift:
Autoren:

Dominika Stygar, Tomasz Sawczyn, Bronisława Skrzep-Poloczek, Aleksander J. Owczarek, Natalia Matysiak, Marek Michalski, Łukasz Mielańczyk, Barbara Bażanów, Paweł Ziora, Piotr Choręza, Bogdan Doleżych, Konrad Wojciech Karcz
Abstract
Background
Despite excellent results of bariatric surgery in the treatment of type 2 diabetes and weight loss in human subjects, some patients do not obtain desired results. One of the reasons for this is that not all patients follow caloric intake recommendations.
Aim
The aim of this study was to investigate the effect of duodenojejunal omega switch (DJOS) surgery on body weight, glucose tolerance, and incretins in rats.
Methods
DJOS and SHAM surgery were performed on rats maintained for 8 weeks on high-fat diet (HF) and control diet (CD), respectively. After surgery, four groups were kept on the same diet as before the surgery, and four groups had a changed diet (CD vs. HF and HF vs. CD) for the next 8 weeks. Glucose tolerance, insulin tolerance, glucose-stimulated insulin, glucagon-like peptide-1 (GLP-1) and gastric inhibitory polypeptide/glucose-dependent insulinotropic polypeptide (GIP) secretion, food intake, and body weight were measured.
Results
A change of diet after surgery resulted in reduced glucose tolerance. Plasma insulin levels were lowered between DJOS and SHAM surgeries for the HF/HF and CD/HF groups. DJOS surgery did not reduce body weight in the studied groups, irrespective of diet. In the HF/HF group, ΔGLP-1 was lower for DJOS surgery in comparison with other groups. Differences of weight changes were observed for groups HF/HF and HF/CD. After DJOS surgery, ΔGIP was lower in the CD/HF group compared with HF/HF.
Conclusions
Our results show that applications of different types of diets, before and after surgery, is a sensitive method for studies of mechanism of glucose intolerance after DJOS surgery.