22.02.2018 | Original Article | Ausgabe 8/2018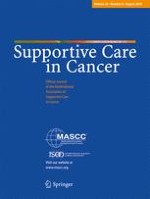 The effects of high-dose calcitriol and individualized exercise on bone metabolism in breast cancer survivors on hormonal therapy: a phase II feasibility trial
Zeitschrift:
Autoren:

Luke J. Peppone, Marilyn Ling, Alissa J. Huston, Mary E. Reid, Michelle C. Janelsins, J. Edward Puzas, Charles Kamen, Auro del Giglio, Matthew Asare, Anita R. Peoples, Karen M. Mustian
Abstract
Introduction
Cancer treatment-induced bone loss (CTIBL) is a long-term side effect of breast cancer therapy. Both calcitriol and weight-bearing exercise improve bone metabolism for osteoporotic patients, but are unproven in a breast cancer population. We used a novel high-dose calcitriol regimen with an individualized exercise intervention to improve bone metabolism in breast cancer survivors.
Methods
We accrued 41 subjects to this open label, 2 × 2 factorial, randomized feasibility trial. Breast cancer survivors were randomized to receive the following: (1) calcitriol (45 micrograms/week), (2) individualized exercise with progressive walking and resistance training, (3) both, or (4) a daily multivitamin (control condition) for 12 weeks. Primary outcomes included changes in biomarkers of bone formation, bone resorption, and the bone remodeling index, a composite measure of bone formation and resorption. Safety measures included clinical and biochemical adverse events. A main effect analysis was used for these endpoints.
Results
Hypercalcemia was limited to three grade I cases with no grade ≥ 2 cases. Among exercisers, 100% engaged in the prescribed aerobic training and 44.4% engaged in the prescribed resistance training. Calcitriol significantly improved bone formation (Cohen's d = 0.64;
p
 < 0.01), resulting in a non-significant increase in the bone remodeling index (Cohen's d = 0.21;
p
 = 31). Exercise failed to improve any of the bone biomarkers.
Conclusions
Both calcitriol and exercise were shown to be feasible and well tolerated. Calcitriol significantly improved bone formation, resulting in a net increase of bone metabolism. Compliance with the exercise intervention was sub-optimal, which may have led to a lack of effect of exercise on bone metabolism.