28.11.2016 | Original Scientific Report | Ausgabe 5/2017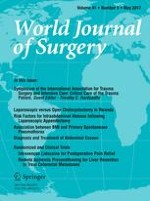 The Effects of Intravenous Lidocaine Infusions on the Quality of Recovery and Chronic Pain After Robotic Thyroidectomy: A Randomized, Double-Blinded, Controlled Study
Zeitschrift:
Autoren:

Kwan Woong Choi, Kee-Hyun Nam, Jeong-Rim Lee, Woong Youn Chung, Sang-Wook Kang, Young Eun Joe, Jae Hoon Lee
Abstract
Background
The effect of the systemic lidocaine on postoperative recovery has not been definitively investigated despite its analgesic efficacy after surgery. The aim of this randomized, double-blinded, controlled study was to evaluate the effect of intravenously administered lidocaine on the quality of recovery and on acute and chronic postoperative pain after robot-assisted thyroidectomy.
Methods
Ninety patients who were undergoing robotic thyroidectomy were randomly assigned to the lidocaine or the control groups. The patients received 2 mg/kg of lidocaine followed by continuous infusions of 3 mg/kg/h of lidocaine (Group L) or the same volume of 0.9% normal saline (Group C) intravenously during anesthesia. The acute pain profiles and the quality of recovery, which was assessed using the quality of recovery-40 questionnaire (QoR-40), were evaluated for 2 days postoperatively. Chronic postsurgical pain (CPSP) and sensory disturbances at the surgical sites were evaluated 3 months after surgery.
Results
The QoR-40 and pain scores that were assessed during the 2 days that followed surgery were largely comparable between the groups. However, CPSP was more prevalent in the Group C than in the Group L (16/43 vs. 6/41;
p
= 0.025). The tactile sensory score 3 months after the operation was significantly greater in the Group L than in the Group C (7 vs. 5;
p
= 0.001).
Conclusion
Systemic lidocaine administration was associated with reductions in CPSP and sensory impairment after robot-assisted thyroidectomy although it was not able to reduce acute postsurgical pain or improve the quality of recovery.